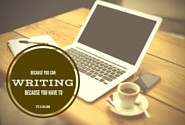 Writing for the Web
Trying this again!
A place to discuss writing online – blogging, content writing, paid to write sites, etc. Come talk about the art of writing for the web, about how web writing differs from writing for print, or about great resources for web writers! Topics could include related concepts like SEO, promotion and social media, and graphics for your posts.
Do You Write For ContentGather?
Author
Posts

This content marketing website is fairly new on the Internet.  ContentGather is owned by social media developer and businessman Postloop's Ryan Royal. How does one get approval as freelance writer for their content marketing scheme? Is it a friendly place to write for? I've not tried writing there yet since I signed up.

Were you rated high the first time attempt with your first 500 word article to get high rating approval? Any advice?  Any encouragement? Would you regale me some tips, stories, rejection, or successes about how it all went for you?

This topic was modified 3 years, 6 months ago by WHYZ'DAT?.
Viewing 1 post (of 1 total)
You must be logged in to reply to this topic.