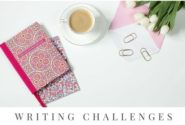 New Writing Challenge: Colours in Your Name
Author
Posts

This challenge is intended to help us all recover from the end of the month blahs. No special tags, no need to worry about promotion. This is just about reminding ourselves that writing is fun!

Whether you're all played out from rushing to make $10 before the window closes, or discouraged now that the amount in your bank is so small again, you need to give yourself a break and remember that the first and most important reason most of us write is that we love it!

We love to communicate. We love to read, and then to try to emulate those writers who inspire us the most. Many of us are so driven to write (or perhaps in some people's case, also to chat!) that it becomes somewhat of an addiction.

So we write because we can, because we are called to it, because it is a way to connect with others. We write when we are happy that things are going well. But just as interesting is the writing we do when things are not going so well at all.

Many of these different modes of expression are associated with a colour. And the challenge here is to simply pick one colour that begins with each letter in your name.

Choose your given name or your username. List one colour whose name begins with each letter in that name. Talk a little about why you chose the colour, or how you feel about it. Does it evoke certain emotions in you? Would you like to wear clothes in that colour, or maybe to decorate a room in your house using that colour?

Whatever you choose to write about, remember to come back here once your post publishes, and link up your post so we can all see it!

Credit  for this challenge goes to Mary Murch, who had suggested this theme once upon a time, on Bubblews….

My given name is Amy so I'm going to use it for the colors in my name (yes, I'm American so I spell colors differently).

A. Amethyst…I choose that color because I love the color purple and Amethyst is the most beautiful color purple I know.  It also has meaning metaphysically as a stone which is calming and meditative, and I really need calming properties in my life.  It is supposed to be healing and soothing, which I also need in my life right now.

M. Maroon…I think of this color as very special and royal.  I was never brought up to believe that I was special or important and I still struggle with feeling that way today.  I need this color in my life more to remind me I am important and special in people's lives and to myself.

Y. Yellow…Yellow is the color of happiness and joy.  It also happens to be the color of my nails at the moment ;).  When I feel happy, I feel over the moon happy.  I feel emotions intensely and when things are good, they aren't just good – they are joyful!

These are the colors of my name.  As you can see, two of them I picked because they are things I need more of in my life.  I'm working a lot right now on improving my life and moving to a new phase of my life as I work towards moving to a new state and starting life with my fiance.

@lolaze Those are lovely colours! And I found your reasons for picking them really interesting 🙂

Well I submitted my post on the colors in my name. Glad my name wasn't any longer. 🙂  A couple letters were hard but I got through it and found the colors to choose. I did the picture different and resized it with the edit button for the picture. I put it at 1200 x 600 and I hope that it does not turn out bad. We shall see. I wish we could edit after our posts are done.

@ruby3881  Loved your post as always. You have such a carefree way of writing and I find your topics enjoyable. Plus, I find them very informative. I loved doing this challenge and found it quite fun.

That's so sweet of you to say, @morgoodie! I had fun writing this one. I'm glad of it, because other than redeeming and getting some blog housekeeping done, writing has felt like too much of a chore today….

I had just read your latest post, very colorful name and I must admit that you sure are good at your words in posts.

I am also happy that you are very active in forums and posting.

You had helped to make LiteracyBase an active site even @kaka135/ is not around.

You did a grand job.

I will be posting an article about this topic too but my username peachpurple is way way too long.

So, I will shorten it to peachy instead, hope you don't mind.

Cheers

My name has in it a red symbol of a color. That might be the reason why I like red.For Chinese, sharp red means luck, I do not have yet found a joyful luck,LOL.

@peachpurple I hope you can change it! Peachy will do just fine, and it suits you so well 🙂

I am very happy to be here and chatting with all of you. It makes for a pleasant day, especially when other things are stressful and full of deadlines!

@lovern That's very cool to have red as part of your name! I don't think anyone in our family has a colour as part of their name, except one who was "Violet" for the flower. But all my daughters have flower names, some obvious and some hidden in the meaning of a name 🙂

@peachpurple  I cannot wait to read your post and see the colors you choose. I think your whole pen name would be too long and I was thinking that I was glad that my first name is not any longer. Five letters was definitely long enough for a blog post. LOL

@ruby3881  That is cool that your children's names are flowers. I worked with a women whose name was Pansy and a friend's friend was named violet. My friend used to call her purple to be funny. This makes me want to think of more people that I have known who have the names of flowers.

Maybe this would be a fun challenge to come up with a flower garden of your name. With the various flowers and their names it would not be too hard to do.

@morgoodie I think I may have already got a post for a flower name challenge. I remember doing something like that, back on Bubblews. If not, I'd certainly be up for writing a new post for this. I think a "flower garden in your name" sounds like a lot of fun!

As it was your idea, you should be the one to post the challenge. You can start a new thread in our writing challenges forum, just for that! I'll even take some time to create a pretty graphic for you later, if you like 🙂

@ruby3881, I'm waiting for approval of my version of this challenge!!  Of course I used my given  name as my username is too long!! 😉

I am lucky my name has only 4 letters, but I am using a pen name. Thank for your post, so amazing and challenging.
You must be logged in to reply to this topic.