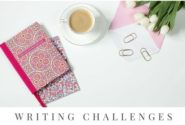 A – Z Story Challenge
Author
Posts

I thought it would be fun to start an A- Z story challenge. This is something I took part in roughly 2 years ago. Someone asked me if I would consider writing something and I did. The piece was published.

Here's How It Works

Each new sentence MUST begin with a new letter from the alphabet.
I've shared a photo of my written piece as an example.

It is not required but you can add a photo with your story.
Happy Writibf, everyone.

Why not give this fun activity a try…. I'm going to bump this just in case you missed it being posted on the 19th.

I think this is a good exercise.

Will there a minimum words for each story?

Here's my story…

Butterflies in my stomach was the feeling I got when I bumped into him that moment.

Was this love at first sight? Oh, I don't know. It's so confusing. I don't even know him.

Will I be seeing him again? When? How?

How I wish I know the answer! I still believe that this serendipitous moment will be the future of my life that will be my forever.

"Cast your burdens upon Me
Those who are heavily laden, 
Come to Me, all of you who are tired
Of carrying heavy loads, 
For the yoke I will give you is easy
And My burden is light, 
Come to Me and I will give you rest".

These are excerpts from the a song by a Filipino Singer, Basil Valdez, titled, Lift Up Hands.

The message of this very meaningful. Talk to God about your problems and believe that He is your savior, and all your problems will be lifted from your shoulders.

Believe, so you shall receive.

hello!

Still no takers for this challenge?

There is no min. words for this. Just remember, Ruby each New sentence must begin with the next letter in the alphabet. In your story you started with B where you were supposed to start with A and continue on with each new sentence. Give it ago again…

Oh, my bad!

I thought yours was the start, so I followed it with the B word then when I went back to your post, there was no takers. So I submitted the next letter, C.

Maybe, we could continue on this.  So next should start with D.

Thanks!

Not a bad idea. But let me get free from my story series.
Viewing 8 posts - 1 through 8 (of 8 total)
You must be logged in to reply to this topic.