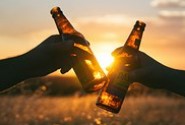 Waiting to deliver my baby
Author
Posts

I think this will be my last post here sharing about my special moment – waiting to deliver my baby, as the next time when I login to LiteracyBase, I should be carrying my baby in my hands. 🙂

I am getting ready to go to the hospital now, perhaps just a few minutes later. I am very excited to see my little baby soon.

I finally managed to crochet this very simple newborn beanie to my baby, it's the first handmade gift I give to my baby, though I thought of sewing and knitting a doll, perhaps I will do them later.

It's time for me to go. Hope you all will enjoy your time here! I will surely miss you all. See you soon. 🙂

@kaka135 oh, I'm so happy for you and your husband.  It seems like the last few days take forever!!  Sending prayers that you have a healthy and happy baby soon!!  Woot!! Woot!!  That will make me another "on-line" grand baby I will have!! 😉

Thinking of you @kaka135, as you bring your new little one into the world! May it be a safe delivery for you both, and may you and your husband rejoice in this new life you have created together <3

@kaka135  Hoping everything went well with your delivery and you are enjoying your new baby boy. I love the little beanie and I am sure when he gets older he will cherish it too. Take it easy and gets lots of rest now.

I am sure there will already be good news waiting. @Lee Ka

hey you, I hope you are doing fine! We will all be waiting for you here. I want to know the details and of course, that is a good news. I am so excited to see your baby. I got worried when I can't log in in the site because you are one of the reason why I need to be here because for sure you will update us on what will happen or else I will PM you at FC. I hope you are okay and the baby and the family.

I just checked this thread, and found some great comments that I have not read. This reminds me of the moment I was waiting to deliver my baby, and now I am so happy that he is now sleeping sweetly in my hand. Time passes so quickly! Isn't life really amazing?

@4cryingoutloud I like the term "online grand baby". It is really my pleasure to go through these special moments with you all here. It is nice that my baby has so many online grand aunts or uncles here.

@morgoodie The beanie was too small and could not fit my baby, so he never use it. I wanted to make it bigger when I discharged, but I just did not do it. 😀

I might still make it bigger or even change it to another pattern later when I have more time for it. 🙂

@grecy095 Thanks for thinking of me. I think I will always be on FC, as it is a good site to stay and gain information too.
You must be logged in to reply to this topic.