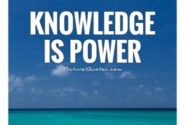 Knowledge Is Power Use...
The group is dedicated to like minded friends who would like to discuss any topic which will help us have a healthy debate and discussion and help us in becoming better human beings. Please go through the details and understand the same well before joining the group as joining the group means agreeing to the same. The knowledge thus obtained can be used for the betterment of humanity and help us in turning out to be individuals working for a common good and a better world. Respect and tolerance for others opinion and views is a basic requirement in this process members would also not make any negative comments, character defamation and use abusive language and indulge in deviant behaviour. Whoever would want to join or comment in the group would not misuse the group and stray from its objective and would not indulge in any legal cases, arbitration, suits, claim damages and the like. Topics will usually start with a write up article.
YOU ARE ALL THERE BECAUSE YOU ARE PAID
Author
Posts

Though I am screaming for my payment the site is least bothered about it. They should feel something when they receive messages from a blogger and at least send an interim reply. Nothing has been received. Is it not a disappointment for a blogger?

Moreover, the colleagues are also not taking up my case and demanding some action from the site. I don't mind if they do not want to. If they are happy with their earning o.k. let you all be happy. Wish you best of luck dear friends.

This is quite odd.  I can't get in touch with Admin in re my items.  Now why aren't they paying you?

@siva, it is not yet paying date, please cool down, the site owners are so busy recalculating salaries of the bloggers here. I also wrote admin and it took them almost 1 month tp reply me.I think there is no reason why cannot be paid considering your writing capacity. Tou writes scholaryly articles. You already cited your problem here on Pay pal, not the right match and you already had sent them another email add connected to your PP, please wait until next week expires and no payment is sent, I will help you inquire the site @support.

Thanks and relax my friend.

There is something very strange going on here.

You will see by May 15, hopefully you are paid by then also.

@aylar, the site is good but bad people make it bad. The site cannot immediately attain to the problem of the people here. Maybe there is only one ow two persons operating this site.

@Michelle, The problem of others is they cannot wait. They cannot pressure the site. They are making themselves funny.

I hope so, but it looks like admin isn't answering anyone nor are they removing the plagiarist posts. Kind of suspicious?
Viewing 7 posts - 1 through 7 (of 7 total)
You must be logged in to reply to this topic.