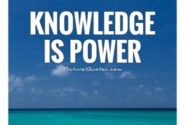 Knowledge Is Power Use...
The group is dedicated to like minded friends who would like to discuss any topic which will help us have a healthy debate and discussion and help us in becoming better human beings. Please go through the details and understand the same well before joining the group as joining the group means agreeing to the same. The knowledge thus obtained can be used for the betterment of humanity and help us in turning out to be individuals working for a common good and a better world. Respect and tolerance for others opinion and views is a basic requirement in this process members would also not make any negative comments, character defamation and use abusive language and indulge in deviant behaviour. Whoever would want to join or comment in the group would not misuse the group and stray from its objective and would not indulge in any legal cases, arbitration, suits, claim damages and the like. Topics will usually start with a write up article.
Why Are Writers Using Pictures from the Literacybase Images Album?
Author
Posts

Thanks for adding the information which you could find hope members and writers can check the same on their own and verify before using them  if they want free images and they are not photographers and they do not have photographs of their own to upload. Great effort from your end appreciate the same and yes I will check the sites and use them for upload too. As of now I have been using pixabay. Now we have got a few options which are useful to use. Best wishes.

This why I been using the same photos on most of my post becasue it look like any one can use them and I rally do not want any one using my photos unless I could make money from it'then I let them use it but right now I am only going to use the same photo. I need some kind of photo so I can post in other writing sites some times you do not need a photo to post

I think you are safe to use the pixabay images. And the images from the unsplash. I have seen those images being reused. And there should be no problem if you are using them. But the rules here are like it is better to use the image. And considering using the image helps with the social media attention grabbing. I think it's worth using the image through the social media. I am not sure how many others can however get traffic to their post without images.

Thank you for adding some more sites from where we can get free images. It is a very important thing as images convey in a instant what a article is about.  Hence I agree with you that having images for the articles is a necessicity as images conveys convey an articles contents in gist. Heading and image along with the article are the three important things.

This has been a problem with me for some time. I have tried a couple of times to upload an image to my blog to no avail. Even when i try to use the sites umages they just dont get aploaded so i can't really tell what goes wrong. I can see its a problem for most people using the same images everytime. But am thinking there is problem somewhere and the support team should be able to get a lasting solution to this problem. When you get an image from your computer it won't get uploaded. This problem has made me not write blogs because i cannot upload any images and there is nothing much i can do. Maybe the support team sgould get an easier way to upload images

I used an image and Pop!  Another writer instantly copied it!

Anitah, the image uploaded needs to be of proper proportion. Some of the time WordPress can't make use of the higher resolution and sized images. And then it will cause the HTTP error. Some of the time image may get uploaded. But it may not be of use on some theme. So this may lead to same problem with here as well. I have similar problem of loading some images too. But I guess I just use the low resolution images some of the time.

I have once used a photo from pixabay, I downloaded it from the site and uploaded to LB unknowingly that is used by other members of literacybase. I don't know if it's my fault to use it but really it's a waste of time to check first the media album of this site to see if someone use the specific photo or not before using it on my own blog.

Thank you for the information. It'll  help members who read this particular article. The same can be used by them to upload pictures  in their blogs. I have to try some of them myself. Will be doing the same when I upload pictures for the articles in my future blogs. Will see how they work when uploaded.  I have tried some of them which were very useful. Keep up the good work..

Some of the writers that use the lirary image base are use to other writing sites that all so have some kind of image library but on those site the photos are free to use . So I think the writers think the image are free becasue they can download it with no problem. This might be a reason why some of the writers are using the photos on the image library 

Why they're using Pictures from the Literacybase Images Album? – Lazy or trying to save time and bandwidth.

I realise that the inference is that the photos in the 'library' are free to use.  Anyone who pauses when it comes to the photo section will see photos and images and assume they are free to use.

It could be a simple misconception.

Others just do magic. We cannot blame those stealers because Media Library is part in the blogging so far, but it will be better for each and everyone to observe the longevity of the images. They must not just copy and image newly used by the writer, the original finder of it at Pixabay or at any site the picture originated. It is so obvious that those photos displayed in the first row are photos newly used by a blogger. Just for the sake of respect policy….

@Cely – Do let us know if you receive your payment, as and when that happens.

Cheers.

@krds12 , Sorry to inform you that I ahve not received my payment of those long blogs that I labored. It is not only me not paid ALLL that had redeemed end of April not paid. The site @support does not anymore show up to reply and give update about the status of this site.

I do not know why they failed to pay.It should be between the 10th and 15th of the month. They might run away leaving us all. Others find another writing site.
You must be logged in to reply to this topic.