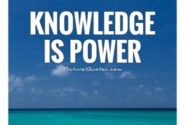 Knowledge Is Power Use...
The group is dedicated to like minded friends who would like to discuss any topic which will help us have a healthy debate and discussion and help us in becoming better human beings. Please go through the details and understand the same well before joining the group as joining the group means agreeing to the same. The knowledge thus obtained can be used for the betterment of humanity and help us in turning out to be individuals working for a common good and a better world. Respect and tolerance for others opinion and views is a basic requirement in this process members would also not make any negative comments, character defamation and use abusive language and indulge in deviant behaviour. Whoever would want to join or comment in the group would not misuse the group and stray from its objective and would not indulge in any legal cases, arbitration, suits, claim damages and the like. Topics will usually start with a write up article.
What Are The Best Ways To Stay Cool And Healthy In Summer
Author
Posts

Summer has arrived in India and here are some of the best ways in which one can stay cool and  healthy. While there are many different ways in which each and every individual tries to cope with summer a few of the methods are listed below.

1) Drink lots of water why this is a regimen  which one has to follow all through the year. But it is very important especially in the months of summer. Make sure the water you drink is safe and purified.

2) Drink fresh fruit juices by trying to grind the same in mixer and do not add sugar to it. These fruit juices provide you the necessary nutrients, vitamins, minerals and other essential elements which are required by the body to stay healthy in summer.

3) Eat curd rice as it is very good especially in the months of summer. In summer generally the appetite becomes a little less compared to other seasons. This food is very good as it helps your body stay cool.

4) Drink lassi with spices and curry leaves mixed and blend the same on the mixture. Add a pinch of salt too. It is light weight on the stomach and keeps you hydrated drink this at least thrice a day.

5) Prepare milk shakes of different varieties as it is a favorite of both children and even elders. It is cool and also provides the required amount of fat too which one does not feel like consuming during this season.

6) Occasionally spoil yourselves with ice creams of different flavors. It helps reduce the body temperature during extreme weather. But do not over indulge as you may end up getting cough.

7) Prepare foods like sambar, rasam, mooru koyambu, vathal koyambu, amti and the like it is light on the body and does not make you feel stuffy.

8) Lime or lemon or lemonade is very healthy as it is a citrus fruit and consists of Vitamin C and other useful minerals and nutrients which are required for the body. This reduces chances of one getting a stroke  to a great extent.

9) Avoid aerated drinks as they do more than good. They are nothing but junk food. If you want to buy something the preferable things would be cool milk which comes in different flavors, fresh fruit juices which are packaged and even lassi which is packaged is sold you can also have sharbat like Rooh Afza etc., As they are unani medicine too.

10) Eat different varieties of fruits which come in summer like water melon, grapes, pomegranates, banana, musk melon and many others which grow in the summer.

There are many other options available to keep you and your family safe and healthy so make the best of summer and taste as many different varieties you can which one should in the summer months. Enjoy the summer.

Some very good summer food and drinks options, and keeping a light stomach is very important. Very oily, spicy food can cause adverse impact.

@PEEUSH TRIKHA

Thank you for highlighting the importance of not having heavy foods which contain oil and are very spicy as these foods take time to digest in the months of summer and make one feel stuffy which can well be avoided. Many of the people also have issues related to constipation which can also be cured by taking bananas and cucumbers which will help over come the situations. I do not know how some people consume heavy foods in this season.

It is also important to stay fit by doing light exercises and more exercise in this season as the same when done in winter will result in exhaustion which is well avoided and taking more fluids is one of the most important aspects of keeping well in this season. Having chapatis with curry and corn, jowar and lentil intake is also very useful for the health in the months of summer. One should not also go out between 11 am and 4pm during peak summer.
Viewing 3 posts - 1 through 3 (of 3 total)
You must be logged in to reply to this topic.