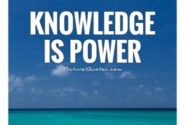 Knowledge Is Power Use...
The group is dedicated to like minded friends who would like to discuss any topic which will help us have a healthy debate and discussion and help us in becoming better human beings. Please go through the details and understand the same well before joining the group as joining the group means agreeing to the same. The knowledge thus obtained can be used for the betterment of humanity and help us in turning out to be individuals working for a common good and a better world. Respect and tolerance for others opinion and views is a basic requirement in this process members would also not make any negative comments, character defamation and use abusive language and indulge in deviant behaviour. Whoever would want to join or comment in the group would not misuse the group and stray from its objective and would not indulge in any legal cases, arbitration, suits, claim damages and the like. Topics will usually start with a write up article.
Rajinikant – Indian Actor – South Indian Megastar
Author
Posts

Rajinikanth aka Shivaji Rao Gaekwad named after the Maratha King has been a Megastar of the silver screen for many decades in south Indian movies and Bollywood. He has acted in Hindi, Tamil, Telugu and Kannada movies. His latest movie Kabali was well made and became a big hit with his die hard fans and the general public grossing more than 200 crore. His upcoming move 2.0 is expected to have a mega budget and is also starring Akshay Kumar and Amy Jackson. There was a teaser which was released which was shown on television I had the privilege of viewing the same.

His ancestors hailed from Pune district Maharashtra, parents are Maharashtrians setttled in Mysore. His father was in the police force, his mother passed away when he was five years old. He was born in Bengaluru, He was the youngest member in the family. He was naughty and a spoilt brat when he was a child, later when he grew into a young man he started working as a bus conductor and he became an instant hit with his passengers due to his patent mark style and mannerisms which are also reflected in his movies as an actor which people love to see again and again.

He settled in Chennai and became a legendary actor after the initial struggle. He has two daughters Soundarya, Aishwarya. Some of his famous movies which come in mind instantly Apoorva Raagangal in Tamil, Katha Sangama in Kannada, Anthuleni Katha in Telugu, Moondru Mudichu in Tamil and Robot in many languages. He has a fan following in Japan and China too and other parts of the world. His comics too are famous. His popularity has grown with age. Fans eagerly look forward to what is the next movie they can expect from their Thalaiva and why not.
Viewing 1 post (of 1 total)
You must be logged in to reply to this topic.