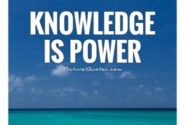 Knowledge Is Power Use...
The group is dedicated to like minded friends who would like to discuss any topic which will help us have a healthy debate and discussion and help us in becoming better human beings. Please go through the details and understand the same well before joining the group as joining the group means agreeing to the same. The knowledge thus obtained can be used for the betterment of humanity and help us in turning out to be individuals working for a common good and a better world. Respect and tolerance for others opinion and views is a basic requirement in this process members would also not make any negative comments, character defamation and use abusive language and indulge in deviant behaviour. Whoever would want to join or comment in the group would not misuse the group and stray from its objective and would not indulge in any legal cases, arbitration, suits, claim damages and the like. Topics will usually start with a write up article.
Movie: M.S.Dhoni – Biopic of India Team Captain, Batsmen and Wiketkeeper
| | |
| --- | --- |
| Author | Posts |
| | The story is about how a young lad Sushant Singh Rajput has potrayed the character of M S Dhoni well who is from a small town Ranchi goes through the grind by facing challenges and is helped and inspired by coaches, mentors, friends and how due his perseverance blossoms into a successful wicket keeper cum batsmen and smashes records on the way and goes on to win innumerable matches before making it to the prestigious team India and winning the country laurels and victories by showing his batting talent before placing himself well in the team and ultimately going on to become the team captain and becoming  one of the famous captains of Indian cricket having many victories under his belt in the process. Also on display is the famous helicopter shot which won many matches. Ultimately going on to become one of the living legends in the cricket world earning fame for India. The biographical story written and directed by Neeraj Pandey the film realeased on 30 september 2016 made with a budget of 1.04 billion INR has earned 2.13 billion INR. The songs are good besabriyaan and Jab tak has been sung by Armaan Malik, Kaun tujhe sung by Palak Mujhal . The main characters Disha Patani as Dhoni's wife and Kiara Advani as his girl friend too have done a clean job. While Anupam Kher as Dhoni's father has done full justice to his role. The other characters were a interesting mix. The real Dhoni.s footage of the matches in the movie is also an interesting move. The running time of the movie is 190 minutes. The film turned out to be a big commercial success and was screened in many languages. The Sound Track quality is well appreciated so is the cinematography. All in all a good effort worth appreciating for a documentary . Suggest viewing. |
Viewing 1 post (of 1 total)
You must be logged in to reply to this topic.