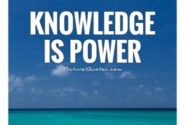 Knowledge Is Power Use...
The group is dedicated to like minded friends who would like to discuss any topic which will help us have a healthy debate and discussion and help us in becoming better human beings. Please go through the details and understand the same well before joining the group as joining the group means agreeing to the same. The knowledge thus obtained can be used for the betterment of humanity and help us in turning out to be individuals working for a common good and a better world. Respect and tolerance for others opinion and views is a basic requirement in this process members would also not make any negative comments, character defamation and use abusive language and indulge in deviant behaviour. Whoever would want to join or comment in the group would not misuse the group and stray from its objective and would not indulge in any legal cases, arbitration, suits, claim damages and the like. Topics will usually start with a write up article.
"MINI DUBAI" Of India
Author
Posts

A town, named Bhatkal in Karnataka, India is called "Mini Dubai."  This town is full of surprises. There is a beautiful combination of local flavor and modern shopping complexes. This town is dominated by Navayaths, a major business community of Muslims. This business community have a strong hold over the economy which brought Bhatkal to global charts and it have become "Mini Dubai" of India.

@Barnali Sarkar,  I googled about the MINI DUBAI in INDIA, but could not found any useful references to confirm the same…  When I searched in TripAdvisor, I found the following are the interesting places to visit in Bharkal..

Lod Shiva Temple
Shri Chitrapur Math
Bhatkaal Light House
Bhatkaal Beach
Noor Masjid
Khalifa Jamia Masjid
Kadavinakatta Dam

I'm interested to know the facts behind your statement about Bhatkal.  Can you please some useful sources for me…

@Barnali Sarkar, Thank you for providing me more relevant links to know about Bhatkal. Its a good place to visit for Balagore residents..

@kumar

welcome friend.. Nice to hear you. Thanks.

@ Barnali sarkar Thanks for the useful links that you have provided. The place is really cool with a lot of places worth spending time for a vacation. The place looks amazing with nature kissing each and every corner of the place. There are beaches and temples and mosques. Also, the place is filled with exquisite restaurants and the food in the photograph looks amazingly delicious. Also, there is a lighthouse in there. Thanks for sharing this with us.

Well friend, thanks for your beautiful response. Thanks.

[email protected] Sarkar 

You are welcome 🙂

I am waiting for your upcoming posts and information like this.

Good luck my friend.

@barnalis this is a great information. I was not aware of this place. Is it near Bangalore?

@Peeush Trikha

Yes, The aerial distance between Bangalore & Bhatkal is 347 km. There is also good communication between them by road & railways.
Viewing 10 posts - 1 through 10 (of 10 total)
You must be logged in to reply to this topic.