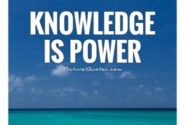 Knowledge Is Power Use...
The group is dedicated to like minded friends who would like to discuss any topic which will help us have a healthy debate and discussion and help us in becoming better human beings. Please go through the details and understand the same well before joining the group as joining the group means agreeing to the same. The knowledge thus obtained can be used for the betterment of humanity and help us in turning out to be individuals working for a common good and a better world. Respect and tolerance for others opinion and views is a basic requirement in this process members would also not make any negative comments, character defamation and use abusive language and indulge in deviant behaviour. Whoever would want to join or comment in the group would not misuse the group and stray from its objective and would not indulge in any legal cases, arbitration, suits, claim damages and the like. Topics will usually start with a write up article.
How To Earn Well In Literacybase?
Author
Posts

Many of us come and join Literacybase with the intention of expressing ourselves through our writing and also earning well. As a newbie we want to achieve things fast as we are eager to go about writing successfully and earning our payments. But many of us forget to check the features of the website. To earn well we should know the facilities and how to tap them well too.

There are many facilities which we are not aware as we have not tried out some new ways or we have not found time to check out the complete features of the website. Obviously for any newbie or even others who have been there around things will not be simply a cake walk. We to would need to spend sometime and maneuver the website to see what all is possible and how many possibilities are there.

Request the newbies especially to take some time out and check the complete facilities and share your personal experiences and comments in the comments section in this article as it can help others. You can also join the group literacybase which is the second group you find on the top. You can post your queries to Literacybase support team who are very helpful to answer your queries.

This has been my experience with them and hope you also will have a similar experience. But first and foremost self discovery is the best option. There are also articles written by some experienced members in the blogs section too. You can also find two three articles related about these issues in this group written by me and  this is the fourth one. Best of luck and happy writing and earning.

The first thing some one should do to visit Faqs, how to earn etc pages before doing any activity. I did it first and if I had question I had put them in forum.

You did the right thing hope the newbies too see and understand what you told and follow the same and also go through the website well by exploring and understanding all the details as this will enable them to get the best out of the site. Express themselves well by writing and earn well too. Thanks for the input as it will create awareness people new to this site.

I think writing good content. Or atleast attempting to write good is one way. I think commenting, forum posting and articles are good way to earn cash here. And people should be open to that. I mean think about it. There are very few sites who can allow that part. I'd say writing a good content is a cure for this type of stuff. I just happen to understand that sometimes it helps to get into the zone and work on the content.

Yes, writing good content or something which people can read is a good way for comments to come. Writing and posting articles is another good way to earn too which is why I write regularly on the groups. More members of the groups should write interesting topics which will invite stimulating comments and initiate discussions to serve a useful purpose too.

Knowledge is Power Use It Wisely is one such group platform which is provided for the members interested in writing and expressing their views on different topics and getting recognized too. Money can be earned from blogs and from forum articles and comments in both. When the facility is provided people should make best use of the same by participating in the same and earning well too for the effort they have put. Writing in forums provides new ideas for topics which can be written in blogs too.

As a newbe I been starting to look around the site I like your post is has a lot of information in it.  this does help.Plus there was some good information just on the site how to earn money here on LB.

Glad to know you are checking the site. It is a good thing request you to post articles here in the group if you find something to share it with all newbies. It helps all and makes navigation in Literacybase site better. Looking forward to reading your articles in this groups. Thanks for the input and the appreciation. Best wishes and regards.

@Krishna Kumar  Being consistent is the key. I am not very regular on LB  these days but I had been paid four times here in the past. i used to write at least three posts everyday.

@shaloo walia

I agree with you anything which is done on a continuous basis fetches results as the number of people reading ones articles increases. This is again universally true for any job which one is doing and would want to earn. Regular employees who work well are often well noticed by any sensible organization and and their work is rewarded too in a monetary way.

One more important more important method is to write as many different topics in which one is good at and which are widely preferred by the target audience. This not only is a way of increasing ones income but also helps one have more choice and learn new things too in the process of writing a topic which one is new to. So it is a interesting combination of learn and earn for the writer. Thanks for highlighting an important aspect.

Some more ways of increasing your revenue on Literacybase are

1) Open different groups on which you are a member daily and participate.

2) Try writing more blogs.

3) Sharing blogs and articles which are important to a particular group or community which you wish to share.

4) The more number of individual shares the more the revenue too.

5) Referrel through  a blog or  post shared and someone joining from there also comes to your account as you are the who have written and shared the article.

6) Revisiting the posts you have written and commenting in it about something new as I am doing now also increase your revenue as you are writing content.

7) Making sure you reply to all people who have commented on the article also builds a rapport with them  and also earns you money as you are commenting in response. Such responses are well appreciated by other members.

8) Make sure you check your post in the checker software plagium before submitting as it saves you time and money as your post will not be called as plagiarized and you will not be issued notices by LB.

9) As a writer take good care of your hands and fingers as they are the one which are helping you do the work and earn money do not make them overwork. As problems like CPT etc. can come.

10) Help more members who are new get established in the site as more members means chances to write more comments on articles and blogs too. Also use the comments section among members as an open email as that would give you more content to type which otherwise you would type on some other medium.

Here you may find information to contain general  information but they help in increasing you revenue in the long run.

Thank you for posting this information!! I will do a lot of self discovery here but it is nice to have some suggestions and guidance… I think I will enjoy this site very much!!

@Diana

Thanks for giving the feedback. As and when you do the process of self discovery and have to share something with people new to this site. You can post the same in the Knowledge is Power Use It Wisely as it will help other members who would be reading the article in the forums section. Looking forward to your active participation in discussions in the group.

There are also some other articles in the blogs and other groups like making money online, newbies etc.  from where you too you can get information and also from the FAQ of the site.  Best of luck. Happy writing and have a great time on this site.
Viewing 12 posts - 1 through 12 (of 12 total)
You must be logged in to reply to this topic.