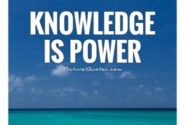 Knowledge Is Power Use...
The group is dedicated to like minded friends who would like to discuss any topic which will help us have a healthy debate and discussion and help us in becoming better human beings. Please go through the details and understand the same well before joining the group as joining the group means agreeing to the same. The knowledge thus obtained can be used for the betterment of humanity and help us in turning out to be individuals working for a common good and a better world. Respect and tolerance for others opinion and views is a basic requirement in this process members would also not make any negative comments, character defamation and use abusive language and indulge in deviant behaviour. Whoever would want to join or comment in the group would not misuse the group and stray from its objective and would not indulge in any legal cases, arbitration, suits, claim damages and the like. Topics will usually start with a write up article.
Hardwork
Author
Posts

Hardwork has proven to be one of the most discused topic in human existence because of its role in maintaining ones financial duties.
A philosopher ones stated that a man is only remembered for what he does not what he says..
People like albert eistein, thomas edinson, nelson mandella, Nnamdi Azikiwe are all remembered today because of thier fighting spirits and impacts in thier society..
You can only become great when you stay glued to hardwork…..
A little boy from Mediera portugal once told his poor fther that they will become rich oneday,, the father didnt believe,, today that little boy has turn out to become a billionaire..cristiano ronaldo..He was able to achieve this feat because of his hardwork..
Note, you can only become great when you work hard… So embrace hardwork and flee from laziness
Viewing 1 post (of 1 total)
You must be logged in to reply to this topic.