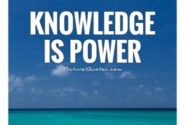 Knowledge Is Power Use...
The group is dedicated to like minded friends who would like to discuss any topic which will help us have a healthy debate and discussion and help us in becoming better human beings. Please go through the details and understand the same well before joining the group as joining the group means agreeing to the same. The knowledge thus obtained can be used for the betterment of humanity and help us in turning out to be individuals working for a common good and a better world. Respect and tolerance for others opinion and views is a basic requirement in this process members would also not make any negative comments, character defamation and use abusive language and indulge in deviant behaviour. Whoever would want to join or comment in the group would not misuse the group and stray from its objective and would not indulge in any legal cases, arbitration, suits, claim damages and the like. Topics will usually start with a write up article.
Fisker comes at Tesla with some bonkers new battery claims
Author
Posts

Fisker, the luxury electric auto startup founded by renowned designer and former Tesla consultant Henrik Fisker, claims it's developed a breakthrough that could knock Tesla off its perch as the world's premier electric carmaker — and many completely change the way we use batteries in the process.

The upstart company filed patents for a new solid-state battery design that would give its cars some truly astonishing performance capabilities. Fisker says the new batteries will give its vehicles a range of more than 500 miles per charge, with the capability to power up in less than one minute.

Those two stats would smash Tesla's current top options, not to mention every other car and battery out there. Tesla's most long-range vehicle, the Model S 100D, offers an estimated 335 miles per charge using a lithium-ion battery. Tesla cars usually take about half an hour to fully charge at one of the company's Supercharger stations.

Fisker's solid-state batteries have a long way to go before they make it into a car, however. The company projects the tech won't be ready for mass production until "post 2023."
Viewing 1 post (of 1 total)
You must be logged in to reply to this topic.