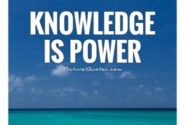 Knowledge Is Power Use...
The group is dedicated to like minded friends who would like to discuss any topic which will help us have a healthy debate and discussion and help us in becoming better human beings. Please go through the details and understand the same well before joining the group as joining the group means agreeing to the same. The knowledge thus obtained can be used for the betterment of humanity and help us in turning out to be individuals working for a common good and a better world. Respect and tolerance for others opinion and views is a basic requirement in this process members would also not make any negative comments, character defamation and use abusive language and indulge in deviant behaviour. Whoever would want to join or comment in the group would not misuse the group and stray from its objective and would not indulge in any legal cases, arbitration, suits, claim damages and the like. Topics will usually start with a write up article.
Film Personality – Shah Rukh Khan – Bollywood Actor
Author
Posts

I remember viewing Shah Rukh Khan also called SRK, when he was new and struggling and was working in television serials and played the role of a army soldier in one and in the second serial it was about a circus owner both were interesting. But I never imagined his rise would be so meteoric and would reach great heights of stardom. He is identified as an actor par excellence, a singer, a movie producer and a action director and a businessman all rolled into one.

He has given repeated hits with movies like Dilwale Dulhaniya Le Jayenge, Raees, My name is Khan, Kal Ho Na Ho and many more innumerable hits. All his movies have lilting songs, he is also the owner of entertainment company Red Chilli entertainment. He has potrayed many characters like hero, a coach, a sports coach, a lover, negative character and many more which prove his versatile acting talent. He has a mass popularity all over the world and especially in India as a bollywood actor. He has a personality which can be stated as hardworking, having lots of grit and determination, having the vision to successfully handle big ticket projects with mass fan following.

We can expect more from this super star. His family consists of wife Gauri and three children. He is also co owner of Kolkata Knight Riders cricket team which has won IPL trophy and is a strong team. Definitely a role model for today's youth as to how any Indian can rise to great heights if he has the talent and is will to work hard and consistently pursue his passion and dreams. A true entertainer in his own right.
Viewing 1 post (of 1 total)
You must be logged in to reply to this topic.