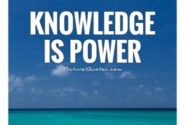 Knowledge Is Power Use...
The group is dedicated to like minded friends who would like to discuss any topic which will help us have a healthy debate and discussion and help us in becoming better human beings. Please go through the details and understand the same well before joining the group as joining the group means agreeing to the same. The knowledge thus obtained can be used for the betterment of humanity and help us in turning out to be individuals working for a common good and a better world. Respect and tolerance for others opinion and views is a basic requirement in this process members would also not make any negative comments, character defamation and use abusive language and indulge in deviant behaviour. Whoever would want to join or comment in the group would not misuse the group and stray from its objective and would not indulge in any legal cases, arbitration, suits, claim damages and the like. Topics will usually start with a write up article.
do this before you sell your fone
Author
Posts

Five things to do before selling your phone
 
Like 0
Date: May 28, 2018 9:19am
Whether you are using an Android or iOS device, you may someday decide that you have enough of the phone and want to sell it to purchase a new one. There are actually quite a few steps you should take before you simply hand over your old phone to its new owner.
Remove SIM/microSD cards
On some devices, contacts and call logs can be stored on your SIM or microSD cards, so it's really important that you remove these before selling. Chances are, you won't be willing to give up either of these when selling the device, so keeping them to yourself is a great way to ensure security.
Factory data reset
If you do not want anyone accessing some information or data on your phone, you can completely erase your data by performing factory data reset. The process only takes less than a minute.
Remove all accessories
When selling your device, it's always important to remove the accessories and extras that originally came with it, unless you've clearly told the buyer you would include them. You make use of them if they are compatible with the new phone you are buying.
Backup your data
Since you are not handing over your phone with all your data, you have to back them up so that you can recover and download on your new device. You can backup your pictures, videos, and documents on Google drive or iCloud.
Clean it
This is a small step, but it is still important. Cleaning your device is a nice gesture; it makes the buyer feel like he's getting his money's worth. Wiping of the screen, removing any dust or build-up, and cleaning inside the ports is a great way to ensure your customer will be happy.

Ephesians: 1. 1. Paul, an apostle of Christ Jesus by the will of God, To God's holy people in Ephesus, the faithful in Christ Jesus: 2. Grace and peace to you from God our Father and the Lord Jesus Christ. 3. Praise be to the God and Father of our Lord Jesus Christ, who has blessed us in the heavenly realms with every spiritual blessing in Christ. 4. For he chose us in him before the creation of the world to be holy and blameless in his sight. In love 5. he predestined us for adoption to sonship through Jesus Christ, in accordance with his pleasure and will— 6. to the praise of his glorious grace, which he has freely given us in the One he loves. 7. In him we have redemption through his blood, the forgiveness of sins, in accordance with the riches of God's grace 8. that he lavished on us. With all wisdom and understanding, 9. he made known to us the mystery of his will according to his good pleasure, which he purposed in Christ, 10. to be put into effect when the times reach their fulfillment—to bring unity to all things in heaven and on earth under Christ. 11. In him we were also chosen, having been predestined according to the plan of him who works out everything in conformity with the purpose of his will, 12. in order that we, who were the first to put our hope in Christ, might be for the praise of his glory. 13. And you also were included in Christ when you heard the message of truth, the gospel of your salvation. When you believed, you were marked in him with a seal, the promised Holy Spirit, 14. who is a deposit guaranteeing our inheritance until the redemption of those who are God's possession—to the praise of his glory. 15. For this reason, ever since I heard about your faith in the Lord Jesus and your love for all God's people, 16. I have not stopped giving thanks for you, remembering you in my prayers. 17. I keep asking that the God of our Lord Jesus Christ, the glorious Father, may give you the Spirit of wisdom and revelation, so that you may know him better. 18. I pray that the eyes of your heart may be enlightened in order that you may know the hope to which he has called you, the riches of his glorious inheritance in his holy people, 19. and his incomparably great power for us who believe. That power is the same as the mighty strength 20. he exerted when he raised Christ from the dead and seated him at his right hand in the heavenly realms, 21. far above all rule and authority, power and dominion, and every name that is invoked, not only in the present age but also in the one to come. 22. And God placed all things under his feet and appointed him to be head over everything for the church, 23. which is his body, the fullness of him who fills everything in every way.
Viewing 2 posts - 1 through 2 (of 2 total)
You must be logged in to reply to this topic.