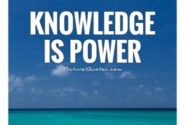 Knowledge Is Power Use...
The group is dedicated to like minded friends who would like to discuss any topic which will help us have a healthy debate and discussion and help us in becoming better human beings. Please go through the details and understand the same well before joining the group as joining the group means agreeing to the same. The knowledge thus obtained can be used for the betterment of humanity and help us in turning out to be individuals working for a common good and a better world. Respect and tolerance for others opinion and views is a basic requirement in this process members would also not make any negative comments, character defamation and use abusive language and indulge in deviant behaviour. Whoever would want to join or comment in the group would not misuse the group and stray from its objective and would not indulge in any legal cases, arbitration, suits, claim damages and the like. Topics will usually start with a write up article.
Cookery: Sweet Anarkali Tikka – Sweet dish
Author
Posts

INGREDIENTS

250 gm khoya

50 gm bread crumbs

50 gm cake crumbs

200 gm sugar syrup

250 gm fresh cream

8-10 roasted cashewnuts for decoration

METHOD: Make a soft dough with khoya, bread crumbs and cake crumbs. Bind with a little milk if required. Divide the dough into 10 equal portions. Make balls and press in dry maida or bread crumbs.

Shallow fry in a griddle till light brown. Remove and dip into sugar syrup for 15-20 minutes. Remove from syrup and arrange in the slanting way. Garnish with cream and roasted cashew nuts.

Health and Nutritional Information

A sweet dish which  is a treat for one all cashew nuts have fat content so do khoya and other crumbs of cake. A filling dish which has to be eaten in moderation by diabetics and people having health sugar and other similar problems related to fat. For the others they can eat to their hearts content but have to see to it that exercise is done so that the skin texture becomes bright and skin becomes healthy. A must during festivities and get togethers.
Viewing 1 post (of 1 total)
You must be logged in to reply to this topic.