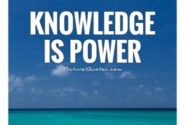 Knowledge Is Power Use...
The group is dedicated to like minded friends who would like to discuss any topic which will help us have a healthy debate and discussion and help us in becoming better human beings. Please go through the details and understand the same well before joining the group as joining the group means agreeing to the same. The knowledge thus obtained can be used for the betterment of humanity and help us in turning out to be individuals working for a common good and a better world. Respect and tolerance for others opinion and views is a basic requirement in this process members would also not make any negative comments, character defamation and use abusive language and indulge in deviant behaviour. Whoever would want to join or comment in the group would not misuse the group and stray from its objective and would not indulge in any legal cases, arbitration, suits, claim damages and the like. Topics will usually start with a write up article.
Cookery: Shahi Pumpkin Surprise – Sweet Dish
Author
Posts

INGREDIENTS

250 gm khoya

1 tbsp ghee

20-25 badams (almonds)

1tbsp chironji  (raisins)

20 gm kishmish (optional)

1 tbsp ilaichi powder (cardamom)

3-4 drops kevra essence

3 tbsp castor sugar

5 drops of green colour (optional)

For Covering:

500 gm yellow pumpkin (petha)

200 gm sugar

1 tbsp ilaichi powder

¼ cup of water

50 gm desiccated coconut

METHOD

First grate khoya. Put with a spoon of ghee into non-stick pan. Fry a little remove from fire. Soak and peel almonds. Make paste of almonds and chironji. Knead well with palm to a smooth dough.

Add ilaichi powder, castor sugar and knead again to a smooth dough. Add raisins( if desired) and green colour. Make into small balls and keep in the fridge for 1 hour.

For Covering:  Now put ghee into a pan, peel and grate pumpkin, put into the ghee. Fry a little and add sugar and ¼ cup of water. Cover with a lid. Let it simmer, when cooked. Keep stirring till water is absorbed.

Add ilaichi powder. Remove from fire then cool. Take out the khoya, make small balls. Cover with a thick lining of pumpkin mixture and roll in desiccated coconut. Keep in fridge for ½ an hour. Serve the delicious shahi laddos.

HEALTH AND NUTRITIONAL INFORMATION

A highly nutritious and dish rich in vegetable, dry fruits, sugar, khoya. Anyone having a sweet tooth would like to have it at anytime of the year. But being rich with fats, sugar, ghee, khoya and nutritional content it is very good for children, people who have lots of outdoor work.

It is good to eat in rainy and winter season as more fats are needed during those seasons by our body and the sweet gives the supplements needed. Made during festivals, functions, happy occasions or when you feel like eating sweets with a variety. A treat for the family and friends.
Viewing 1 post (of 1 total)
You must be logged in to reply to this topic.