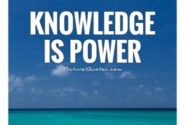 Knowledge Is Power Use...
The group is dedicated to like minded friends who would like to discuss any topic which will help us have a healthy debate and discussion and help us in becoming better human beings. Please go through the details and understand the same well before joining the group as joining the group means agreeing to the same. The knowledge thus obtained can be used for the betterment of humanity and help us in turning out to be individuals working for a common good and a better world. Respect and tolerance for others opinion and views is a basic requirement in this process members would also not make any negative comments, character defamation and use abusive language and indulge in deviant behaviour. Whoever would want to join or comment in the group would not misuse the group and stray from its objective and would not indulge in any legal cases, arbitration, suits, claim damages and the like. Topics will usually start with a write up article.
Cookery: Aloo Gobhi Dum – Serve With Rice Or Chapathi
Author
Posts

INGREDIENTS

1 medium size gobhi (cauliflower)

6 medium size aloos (potatoes)

1 inch piece of ginger

1tsp red chilli powder

1 tsp dhania powder

½ tsp hing water,

1 tsp garam masala

200 gm oil for frying

1.2 tsp sugar

Salt according to taste

METHOD: Cut gobhi in pieces(not very small). Peel aloo and cut each into 2. Heat oil and fry aloos, when they become golden brown remove them from oil. Now fry gobhi pieces. When they are light brown in colour take them out of oil and keep them with fried aloos.

In the leftover oil put in hing water, dhania, chilli powder, ginger cut into small fine pieces, sugar and 1 cup of water,  add the fried aloos and gobhi too. Cover the pan and lower the heat. When the water dries up remove it from fire and sprinkle garam masala and serve.

HEALTH AND NUTRITIONAL INFORMATION

A healthy and nutritional food as potato is a starchy root vegetable and a tuberous crop. It is rich in sources of starch, vitamins, minerals and  dietary fibre, whether mashed, baked or cooked people consider it to be a good comfort food. It is a energy giving food because of starch carbohydrates and has a range of health benefits. Cauli flower is also a regular rotation crop in our diet and contains vitamins, minerals and nutrients.

It has sodium, potassium, carbohydrate and vitamin b6, b12 and vitamin C too. Ginger, dhania powder and hing are good for blood, kidney and digestion. Garam masala provides the necessary heat required for the body. Cook, taste and enjoy with family and friends. One can eat this with either rice or with chapatis. It is a good meal for all unless one has some specific health issues.
Viewing 1 post (of 1 total)
You must be logged in to reply to this topic.