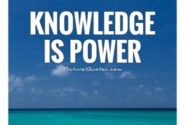 Knowledge Is Power Use...
The group is dedicated to like minded friends who would like to discuss any topic which will help us have a healthy debate and discussion and help us in becoming better human beings. Please go through the details and understand the same well before joining the group as joining the group means agreeing to the same. The knowledge thus obtained can be used for the betterment of humanity and help us in turning out to be individuals working for a common good and a better world. Respect and tolerance for others opinion and views is a basic requirement in this process members would also not make any negative comments, character defamation and use abusive language and indulge in deviant behaviour. Whoever would want to join or comment in the group would not misuse the group and stray from its objective and would not indulge in any legal cases, arbitration, suits, claim damages and the like. Topics will usually start with a write up article.
City's CCTV project set to get a boost
Author
Posts

After rolling out the installation of 4,717 cameras in the city under the Mumbai CCTV surveillance project, the state government is planning to identify areas where women, children, and senior citizens are vulnerable to street crimes and expand this network there.

The state will also install more thermal cameras along the city's coastline and beachfront to enhance coastal security.

Sources from the state home department said that in a meeting on Wednesday, additional chief secretary (home) Sudhir Srivastava had asked police officials to map out such areas within a month for the setup of additional cameras.

"We are looking at expanding our CCTV coverage in parts where this network is poor, in densely populated areas and places where street crimes against women, children, and senior citizens have been reported. Thermal cameras will also be set up on the coastline," said a senior state home department official.

The Rs 949 crore Mumbai CCTV surveillance project was floated after the 26/11 terror attacks and a network of 4,717 cameras have been installed at 1,510 sensitive locations. While these systems have been installed at most places, work is underway on around two to three per cent locations.

Though the Mumbai CCTV project initially planned to establish 6,020 remotely-controlled, high-definition quality IP cameras, the number of cameras was reduced due to the decision to increase the number of poles at the sites for better coverage. The project also includes the installation of around 20 thermal cameras on the coastline.

"The actual number of cameras may be much more than the original 6,020 that was envisaged," the official added. "There are some areas which have not been covered. The crime hotspots have also shifted," explained another official, adding that the police had been asked to inform the home department about their requirements.

KEEPING A WATCH

The project includes two control rooms at the police commissioner office and traffic police headquarters, a disaster recovery room at Kalina, two data centres, 10 mobile vans with mounted cameras to help control rooms monitor the ground-level situation through live feeds and a picture intelligence unit and facial recognition software.

GPS-based tracking of 1,000 police vehicles, integration of the city's spatial information with a GIS system for a shorter response time and a vehicle tracking system with automatic number plate recognition are also included.
Viewing 1 post (of 1 total)
You must be logged in to reply to this topic.