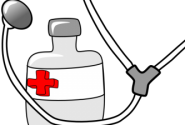 Weight training is good four our Health.
Author
Posts

Weight training isn't just for Arnold Schwarzenegger and Sylvester Stallone anymore. It's really a system of exercise and health benefits that are available to everyone. If you go to a local gym and observe, you can find everyone from teenagers to great-grandmas exercising and strength training.

Weight training doesn't mean just using barbells – it involves much more than that and is most often combined with aerobic activity during the "circuit."
Viewing 1 post (of 1 total)
You must be logged in to reply to this topic.