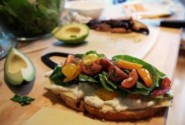 Enjoy Bengali traditional green mango drinks
Author
Posts

If you want to stay cool and fresh in this terrible summer, you may try this Bengali traditional green mango sarbat(drinks):

Ingredients: A small green mango, sugar/honey to test, roasted cumin powder 1/2 tea spoon, black pepper 1/2 tea spoon, water, ice cube, black salt to test, mint leaves(if you wish).

Preparation: Burn or boil the mango, the peel and remove seed and mash it. Hit the water and add sugar and spices and salt. Then add the mashed mango and stair it well. Now strain and let it cool in your refrigerator.

When it is almost cool, take it out and add ice cube and garnish it with chopped mint leaves. Now your drink is ready. Enjoy !

What does it taste like, and would I drink it everyday/ every morning? Id love to hear your thoughts, and the right way how to make it accurately. Thanks!
Viewing 2 posts - 1 through 2 (of 2 total)
You must be logged in to reply to this topic.