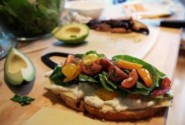 Cream crackers or Biscuits with Jams?
Author
Posts

Plain cream crackers are boring but if you dip one by one into your hot coffee or Milo, it gives you a different version of flavor.

Instead of dry, stick into the teeth crackers, these buscuits turned soft when soaked into hot beverages.

My grandmother used to cracked cream crackers into halves, dip one piece at a time into her hot black coffee before eating them.

Sometimes if the crackers were soaked too long, they will turned mushy, break into pieces. Then she will use a teaspoon to scoop up the remainder biscuits.

I prefer biscuits with pineapple jam or strawberry jam which are often sold in grocery shops.

You can buy according to the weight that you desire.

100g of biscuit jam cost around $1 but cream crackers are much cheaper because you can get 300g for the same price.

Which type of biscuits do you prefer?

Share with me your childhood memories too.

@peachpurple  Any day cream crackers. Have you tried eating cream crackers with cheese and bits of pineapple – delicious!!

http://172.104.9.193/members/bestwriter/

oh yes, I had tried cream crackers with cheese, nutella, KAYA, they are really superb!

Once in a while I would follow my grandma style, dunking the cream crackers into hot MILO or coffee!

Thanks for your share

I love crackers, especially when am hungry i eat them very well even without jam or cream. but they usually are tasteless when they have nothing on them so i would rather have them with jam just to sweeten them a bit

The food pic looks familiar but I don't think we call it cram crackers. Either way I love to dip a sweet cookie biscuit like that in warm tea and milk. When I was growing up my mom did not let me drink coffee. But once I got older, tea or coffee was fine for dunking! 🙂
Viewing 5 posts - 1 through 5 (of 5 total)
You must be logged in to reply to this topic.