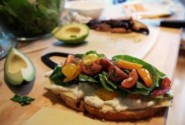 Chocolates anyone?
Author
Posts

Ouch! I can't eat my favorite chocolates now, having toothache!

Anyway, I am keeping the chocolates in the freezer, will have them after I extract my tooth!

Green & Black, (before they were captured by Cadbury and put out of business because they didn't use slave chocolate)  had a number of products which were so delicious they might have been illegal.

@peachpurple  Sad that you have problem with your teeth. But once you treat them you can use any sensitive toothpaste that takes care of chocolates and other sweets. I use colgate pro senstive

@kaylar  Have never heard of that brand. Tell us more about it.

@Anitah Gimase  I am a chocolate foodie too and my fridge is always loaded.

@cely  I do the same. I keep getting gifts. I will place orders for those that I like  (lol)

Green and Black was guilt free.  Firstly, it was 'green' no chemicals.  Secondly, it only used Dominican Chocolate… no slavery…(most chocolate is produced by slaves in Cote d'Ivoire.)

When you bought that chocolate, the very label told you everything…dark? how dark? 70% 80%… and exactly what was in it.

Cadbury, one of the top slavery chocolate companies; M&M, Nestles, Hersey, and Cadbury, bought Green & Black then sold the Cadbury company to get out of the problem with Slave chocolate.

@kaylar  Quite interesting. You are right about cocoa plantations.

Most people don't know that the majority of cocoa is grown by slave labour.

@kaylar  I just visited a cocoa farm here in my neighbourhood.  The owner does most of the work as labourers are not available. I felt sorry for this man.

WE grow cocoa here… used to have our own company…Highgate… it closed. It might open again.  Cocoa from the Caribbean and South America is not Slave grown.

There was a lot of publicity years ago… not on the BBC or CNN… there was a demonstration in Switzerland about the use of slaves …  esp. child slaves.  Children kidnapped from Mali and locked up in Cote d'Ivoire to do the work.

http://172.104.9.193/members/bestwriter/

thanks for your advice.

I am using Colgate in the morning, before sleeping I use paradontax or sensodyn for sensitive gums

However, my gum is receeding, so my teeth are shaking.

Hence, chocolates have to wait

@peachpurple Do you still get affected even aftere using that prosensitive toothpaste?

I love chocolates but I only get them on a special holiday. Last time I bought some gourmet chocolate was Valentine's Day.

There is never a day when my fridge is without chocolates.
You must be logged in to reply to this topic.