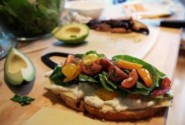 A Question About Salsa : Is There an Alternative?
Author
Posts

Wrote a post at an online community that no longer provides a monetary incentive to write there. No longer active and have been going through some of my old food-related posts and republishing them at my foodie blog. One of the members there is also a member at Literacy Base.  A question was asked in one of the comments at the old site. That member is peachpurple.

I apologize for not responding. Did not notice it.  I am responding here because as I said I am no longer active at the other site and we're both active here.   In addition, the question has peaked my curiosity. The question was: "Salsa? Is it salad dressing?"

First let me answer the question.

Salsa is not a salad dressing. (Or at least, I don't use it to dress my salads.) It's more like a condiment or a dip. Some people like to put it on their eggs for breakfast. Some people like to use salsa as a dip for tortilla chips (very addictive) or to make nachos (even more addictive).

There are various recipes for various types of salsa. But the traditional salsa recipe is made with chopped tomatoes, onion, hot peppers and lime juice and seasonings; additional ingredients added and varied according to an individual's taste. Some like to make theirs fresh. Some buy the bottled kind. I mix a small bottle of salsa in my chili recipe. YUM!

OK. So now I'm wondering because of the question asked … if salsa is not common in your country, is there something similar? Please share.

I think I know some of the Asian dips here in my country. We have mint chutney dip. And also there is schezwan dip. Both of them are spicy in my place. And they do add some value for the non veg food that we try. You can see that tastes vary around the world. For us salsa is not that spicy compared to what we eat here in India and China. We have other spices and chilly which makes things rather much hot than anything in west. But yeah I have seen some sauces from US and UK which were kind of hot.

There is salsa I know but a kind of dance hehehehe like El Bimbo, Curacha. By the way I am happy to know this term to mean something food related. Yes my friend @peachpurple is a recipe lover also. You have the same specialty lovers of cooking.I hope you remain cute.LOL. I will try to browse the best salsa I an my family may like. Thank you friend.

I think we can buy those in our grocery store in the International Foods aisle. I'm sure I've seen chutney on the shelf and I love szechwan food.  Looked up the recipes.  Others might interested.


Your comment reminded me that I had published a quick post about salsa music.  Here's the link if you're interested.
Viewing 5 posts - 1 through 5 (of 5 total)
You must be logged in to reply to this topic.