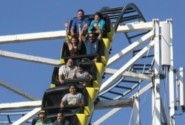 Fear…
I think most of us have some fears or fears that are strong even they could be considered phobias. I've heard that if you confront your fear, you can get over it. I "use to" have a fear of chickens, flying in my face. Recently, I conquered that fear, I can go in the pen or chicken house with our chickens.
Now one fear, I don't think I'll be able to conquer if the fear of heights!! I can't high enough up anywhere to conquer that fear!! lol
Do you have fears? What are your fears?
My Fears
| | |
| --- | --- |
| Author | Posts |
| | I have quite a few.  My first one is spiders.  I don't know they just completely gross me out especially brown recluse spiders; they are dangerous and I don't know if anyone knows but they jump too, totally wicked.   Anyway my second fear are snakes; I'm not talking about when they are small, it's when they get humongous that bothers me; I'm talking about large enough to eat a man, that totally freaks me out.  Lastly I thought that I could be brave and ride a roller coaster, I was so wrong.  After my terrifying experience at Darien Lake, I will never do it again.  When I got off of the roller coaster I could barely stand up.   Never again! |
| | I don't "fear" spiders or snakes..I just keep away from them!! lol  Spiders and snakes have a purpose on this earth, they've got their purpose.  Yeah, since I have a fear of heights, I won't go on roller coasters either!! lol |
| | @yvette you made me laugh when you say that you could hardly stand when you got off the rollercoaster, if anything that is one thing that i would like to do one day. even if i may have fear of heights it is worth giving it a try i guess. As for snakes or any other crawling insects, i am afraid of them all they just freak me out and give me goose pimples not a pretty sight. |
Viewing 3 posts - 1 through 3 (of 3 total)
You must be logged in to reply to this topic.