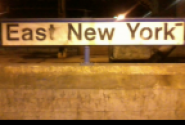 East new york
East New York is a residential neighborhood in the eastern section of the borough of Brooklynin New York City,The neighborhood is part of Brooklyn Community District 5, covered by Brooklyn Community Board 5.ZIP codes include 11207, 11208, and 11239.patrolled by the 75th Precinct located at 1000 Sutter Avenue. New York City Housing Authority (NYCHA) property in the area is patrolled by P.S.A. 2. East New York came to be predominantly inhabited by African Americans and Latinos.
East new york
Oh bother! No topics were found here!
You must be logged in to create new topics.