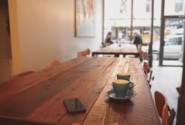 Charleys Philly Steaks
Author
Posts

I took my son to the mall yesterday (October 15) to watch a movie. After the movie was over I was a little hungry. I noticed a new place in the mall had recently opened called Charley's Philly Steaks. So I got in line to order. I wasn't sure what to order since they had a huge list of different kinds of Philly steaks a person could order. The manager suggested I try the original Philly steak. He said they were able to make it they way I like even if it meant with no onions, peppers, and mushrooms. So that is what I ordered. It came with white American Cheese and it's cooked fresh when ordered. It's not like ordering from McDondals where the food is already cooked.

I ordered some cheese fries to go with my Philly steak and a lemonade. I had to end up sharing with my son. He wasn't hungry when I ordered but he wanted to try it and he actually enjoyed it. It was really good. Even the cheese fries was great. I told my son we would have to come back and try the other sandwiches they had. He agreed with me.

Have you ever tried a Philly steak from Charley's?
Viewing 1 post (of 1 total)
You must be logged in to reply to this topic.