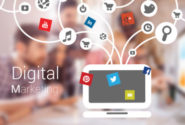 Digital Marketing Grou...
Digital Marketing group cover all areas of the digital marketing landscape and include topics such as social media marketing, mobile marketing, search engine marketing, online PR, email marketing, online advertising, measurement and web analytics, best practice digital marketing and marketing in general.
This group is created to have a healthy interaction and knowledge exchanges about best practices, case studies pros & cons followed in various industries.
Lets go Digital
How to Find Social Media Micro-influencers for Your Small Business?
Author
Posts

Actually this is very easy if they find people who are chasing online paying sites. 🙂 But on a serious note yes you can always position yourself as an infuencer, make yourself heard and visible to small business. Grow your social media followings.

I came across a very interesting article sometime back which has articulated my thoughts in a better way. So sharing it here, hope to hear your views on it.

Quite an interesting read.
Viewing 2 posts - 1 through 2 (of 2 total)
You must be logged in to reply to this topic.