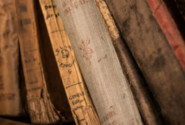 Your Favorite Childhood Storybook
Author
Posts

What was your favorite childhood story book?

Do you still have it or lost it?

The above photo was my favorite story book and I had been keeping it for the past 25 years.

it is one of Enid Blyton series, she was the author of this fantastic story book.

Lots of fun filling events, how Brer Rabbit tricked the bear, wolf, fox and helped his helpless friends in the forest.

He is quick, witty and full of ideas even though he is small in size.

Nobody could outwit him, not even the cunning fox.

I do still read Brer Rabbit books , those that I had been keeping these years.

The hard paper cover was firm and lasted long.

The pages had turned brownish but not torn at all.

Do share with me your favorite childhood story book !

I do not remember a lot of the books from my childhood, but I do remember one series that I would always look for when I went to the library. These books were about Little Bear and the author of this series of stories is Else Holmelund Minarik.  

I used to read these books to my grandmother when she lived us for a while. I still love these books and I read them to my children. They even made a cartoon of these books and it was very true to the books. I really liked it and had some good lessons for the kids to learn.

I wish I still had these books, but I only read the library's copies.

I don't remember it at all. I know I have Disney books like sleeping beauty, snow white etc. I also have the Little Prince and then Percy Jackson books, lol. Yes, that is what I could remember. I am fond of reading Narnia and Percy Jackson books. Oh, I remember the little red riding hot book that I stole from a playmate.

thanks for sharing with us.

Yes, library has a lot of great story books, free to read and borrow for a limited of time.

It is a pity that you didn't had the chance to buy the book and keep it as a remembrance.

You read story books to your grandmother?

That is so filial of you.

Nowadays, you don't find any young kids nor teens reading story books to old folks anymore.

Story books for bed time are great for kids who can't get to sleep.

My boy doesn't like story books telling.

He prefers make up story telling which he finds it fun and hilarious.

Anyway, I still red these Brer Rabbit story by myself. My kids aren't keen of them due to the small printing words.

They prefer Android games.

Gosh sis!

Is there such story books on Nardia??

I thought it was only in the movies!

I love those Nardia movies, all about friendship, trust, loyalty and dignity.

A good book to read to learn about morals for kids.

Back in those 1980s , Disney books with large print outs and beautifully drawn pictures attracted me a lot.

I had to borrow those books from my cousins who were rich enough to buy rows and rows of different story books.

Sure, I envied them.

Disney stories like you had mentioned are moral stories too.

However, I had never read Percy Jackson books except watching the lightning movie, what was it called?

Anyway, thanks for sharing sis!

my favorite book when I was a child was 3 little pigs, Alladin and the 3 billy goats gruff. I also loved the Great expectations by Charles Dickens – the version for children and when I grew older it is still my favorite classic book.

@peachpurple  My favorite comic books were 'Amar Chita Kathas.' They were a great collection of Indian mythology and history. I had a huge collection of them which I held very dear. My son also grew up reading them. I donated the entire collection of about 200 comics to a local orphanage last year.

oh yes, I read about the 3 little pigs and more, great stories and full of morals that teach kids to be good to others.

I also love the Aesop Fables, those are Asian stories about

@Grecy  I would like to read the Percy Jackson books and I think that my kids would like them as well. I have not gotten around to them since there are so many books that I want read and I probably will not ever be able to finish the list. Maybe I just need to get trapped in a library or a bookstore for the remainder of my life. LOL

@peachpurple  The Narnia books were written by C. S. Lewis a long time ago. I have been wanting to read these books as well. I actually have not seen the movies, but they do look like they would be good and the kids would probably like them.

@peachpurple mine was a magazine called Parag in one of our regional languages and I was a regular "TRIER" for getting my stories published in that. I was lucky enough that one of my stories was published and I was given a set a books as reward.

My favorite children's books were the Winnie the Pooh books by A.A. Milne and even the Disney versions.  I also liked Narnia Chronicles, Harry Potter series, Charlotte's Web, Stuart Little and the Trumpet and the Swan all by E.B. White.  I also like Dr. Suess.  I read a lot of Dr. Suess when I worked as an activities assistant with the elderly sometimes we would try to write our own Suess story during an activity it kind of helped forget their individual issues.

I remember reading books such as Berenstain Bears, Goosebumps, books written by Beverly Cleary, and of course The babysitter club.

I also used to read books by VC Andrews then progressed to books written by Anne Rice and Stephen King. I would branch out and read various books about vampires and anything dealing with the paranormal. I also love reading suspense or mystery books.
Viewing 12 posts - 1 through 12 (of 12 total)
You must be logged in to reply to this topic.