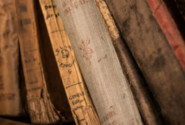 October is National Book month
Author
Posts

October is National Book month. It is also the time of year that the National Book Foundation hands out awards to the top authors. I am an avid reader so this is one celebration that I won't pass up.

I have just recently downloaded a few books from Kindle onto my Kindle app for my laptop that I plan on reading for this month. I love that Kindle offers free books on many different topics. I have even found a few books about what topics a person can write about on their blogs.

It would be nice if I could find a book club in my area. It's always a good thing to share my opinion with others that have read the same book.

Will you be celebrating National book month this month?

@ EvilElf Yeah, I am reading Science of Self Realization by Shrila Prabhupada at the moment. And I plan to read Scions of Ikshwaku by Amish Tripathi after that.

Hehe, for me every month is a book month and every day is a book day. I read new books all the time but if I can't find a new one to read, I re-read my old ones.

 shaloo walia that sounds fascinating. I wonder if it is available in my country. I would love to read just about anything I can. 

 Dawnwriter, I do that as well. If I can find a good book on Kindle I will get a paperback book that I have (I have soo many) and just re-read what I have. I have books all over my house. I swear someone might think I own a personal library at home. You can find almost every Dean Koontz and Stephen King book here. I even have a few self-repair books in case something breaks down and I have to fix it myself. 🙂 Who says girls can't fix on washing machines?

Can I come over to your place over the weekend to borrow a few? 🙂

Though I have read a few, I never liked Stephen King books that much but I would like to read a few Dean Koontz books. I also have a personal library though my books are generally those which I can share comfortably with my teenage daughter and son, and lots and lots of Sesame Street and Clifford books that are read by my younger two.

 Dawnwriter, I have a children's section and preteen section as well. I have all the Harry Potter books and the Twilight series. When my kids were younger I would buy books from their school when they would sell them. My kids are in high school now and read adult books.

When my youngest daughter was younger she would read everything she got her hands on. I guess that is why she is in all gifted classes and whatnot. Super smart.

You are welcome to come read a few books if you want. 🙂

No doubt about it. Reading makes children smart.

My daughter has regularly participated in National Spelling Bee contest. Though she did not have success in 9-11 category years, but she was runner up in 12-14 and National winner in 15-17 years group. Her reading choice has matured over the years and she has read lots of classics including Russian and french ones which appear even daunting to me. Considering our first language is not English, it is only because of books that we converse and write in English easily.

Though as children become older, it becomes a bit difficult to buy books for them as there is lots of romance and eroticism in most adult and young adult books which I cannot allow my children to read at this stage.

Younger years are easier !

@ D celebration, we didn't over here(i meant in dis part of d world)…the act of reading is just being revived….and there are few books club dat encourages it.

I am fond of reading books written by Robert Ludlum. He has written a lot of thriller novels. I also read books by Agatha Christie. I like reading her crime novels. I like how she presented the plot of her novels. I also read books of how to, biographies, among others.

I have mini library at home. It is filled with referenced books. The books which I bought when I was still studying in college. If I couldn't find them in our local book store, I order it in the capital city just to get a copy of it. What worried me now is my children, my grandchildren don't have the desire to read books. I notice it is only our youngest daughter who loves reading books.
Viewing 9 posts - 1 through 9 (of 9 total)
You must be logged in to reply to this topic.