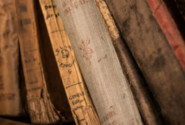 Book reviews
Author
Posts

Discuss book reviews or book recommendations here, Which books are your favourites and which book you would not recommend to any one?

Recently I re-read the book, The Alchemist by Paulo Coelho . I had read it once before and the whole "soul of the World and Personal Legend philosophy flew over my head.

This time however , I ignored the heavy philosophy stuff and just enjoyed the story and found myself smiling as I read about Santiago's adventures that took him from Spain to Morocco to Egypt and back again.

I really enjoyed reading it and the end was specially great. The book shows just how important it is to believe in our dreams and not fear failure. Everything that we do enriches our lives because if we stop at a certain point or even die, we have come farther than before or have experienced something which others might not have.

Have you read the book? Did you enjoy it?

@dawnwriter  I have not read this book or even heard of it, but it sounds like an interesting read. I love finding out about books that I am not familiar with. I will put this on my list of books to read. The last book that I read that I would recommend is A Tree Grows in Brooklyn by Betty Smith. It is a very good story about a family living in Brooklyn in the early 1900's. It is narrated by a child and it is from her point of view. All the struggles and the way she was able to overcome them when she got older. A very good read.

If you are into young adult books, I recommend the series starting with Miss Peregrine's Home of Peculiar Children by Ransom Riggs. There are 3 books to this series and they were so hard for me to put down. It is a great story about a boy who finds this "loop" where these peculiar children live with their guardians. It goes through the adventures and the fight between the peculiars and the ones who are trying to take over the human world. I did not want these books to end and I was able to relate to these characters.

@ morgoodie Thanks for the book recommendations. I am always looking for new books to read for myself and my two older teenage children.

My children are big fans of Alex Rider series by Anthony Horowitz. I think there are 7-8 books in the series about a 15 year old boy who gets recruited by MI6 to hunt international criminals. Alex Rider is just like a mini James Bond, very intelligent, quick and courageous with gadgets. The books are ideal for children with thrill, action and plenty of adventure.

They are very well researched and very well written books. I have read them too and enjoyed them a lot.

I enjoy reading John Grisham novels but I am never sure how his books are going to turn out. For example, A Time To Kill was about a white lawyer defending an African American father after he kills two white men who had raped his daughter. It was a very serious book and talked of racism and how justice differs for people from different races.

Books like Pelican Brief, The Firm and Rainmaker were Hollywood material with dashing protagonists, witty dialogues and enough suspense and action to make them into movies (Julia Roberts, Tom Cruise and Matt Damon) playing lead roles.

The latest book that I have read by John Grisham is The Partner and I am not sure what to make of this book. The plot is so crazy and implausible that made me laugh but at the same time it is very brilliantly written.

A lawyer fakes his own death and runs away with 90 million dollars from his law firm's account. He gets chased by FBI, his former associates, insurance companies, and the other bad guys but with meticulous planning, he gets to walk scot free. There is a brilliant twist in the end which is perfect for a book such as this one.

All in all, it is a very entertaining book that you just cannot put down. Are there any John Grisham fans on Literacy Base?

I guess the name J.K Rowling will forever remain associated with the Harry Potter series. Maybe that is why the author chose to create the character Detective Cormoran Strike under the pseudonym Robert Galbraith.

I just finished reading the first book in Cormoran Strike series called The Cuckoo's Calling and really enjoyed it. It is a very well written murder mystery in which a super model dies after falling from her balcony. The police think it is drug-related suicide but her brother wants her death investigated by the private investigator.

I wonder why the author likes big, hairy men though. In HP series it was Hagrid but in this book, the hero is very big and hairy and his physical appearance is not really hero material but he is shown to be very intelligent with photographic memory and the tendency to follow all leads very carefully. His assistant Robin is just like Hermione, clever and efficient and they make a good team.

Have you read any book by JK Rowling that she is writing as Robert Galbraith?

@dawnwriter  I have not heard of the Alex Ride series, but it sounds like it would be a good read. I do not mind reading young adult. My son is 9 but his reading level is equivalent to a 12 year olds and some of the books he reads need to be ones that are for someone in the 6th grade. But I sometimes have to be choosy with his books because I do not want something that is too mature of a situation in the book.

I have not read all of the Harry Potter books and did not realize that the author was writing under another name for other books. I bet they really are good as I liked the HP series. One day I will read them and have some of them, so that my kids and I can read them together at bedtime. I love to be able to read books to them or have them read at bedtime. We really like the movies. I will have to check on her other books to see how I like them. Thanks for the recommendations.

@morgoodie I am sure your son will love Alex Rider and Power of Five series by Anthony Horowitz. My 12 yr old son was an extremely reluctant reader and could never finish any book but once he started reading these books, he is hooked. He reads them over and over again.

I have to be extremely choosy when it comes to books accuse i do not want my children to be exposed to bad things early in life so I avoid books with foul language, sex scenes and gory stuff but Anthony Horowitz is perfect for young boys and girls. Great sense of humor and after a couple of books, Alex seems like your children's best friend who might just come home for dinner one day 🙂 My children talk so much about him.

@morgoodie Another great series for children is Deltora Quest series by Australian writer Emily Rodda.

it is also a great series for younger children in which a young boy Lief with help of palace guard looks for precious stones to complete a magical belt that will rid his land of evil forces.

The language is simple and the books full of action and adventure. If you can look up these books in a  library, I am sure your son will love them.

My daughter is a voracious reader so i am continually looking for good, clean books for her and my son.

Do keep sharing book recommendations.

I was going through some of my books that I had in storage and came across a series that I really loved. It is The Cat Who…. series by Lillian Jackson Braun. These were really fun books that revolved around the bachelor who inherited this home in a town and moves there with two Siamese Cats who help him to solve different mysteries in the new town. It is quite an enthralling series and you can really get caught up in the life that the main character lives as well as the townspeople.  I told my son that he would probably like this series and I would love to be able to share them with him.

@dawnwriter  I will check into those series that you have recommended. I am sure that my son would be interested in them as well. Thanks for the recommendation.

I have not been reading much novels or fictions nowadays. Even if I read, I used to read in Chinese. It always takes me a long time to finish an English book. 😛

Nowadays, I usually read books about parenting and Waldorf education (an educational approach that I would like to use to teach my children). Currently, I am reading a parenting book by Kim John Payne, "Soul of Discipline". In this book, he explained the three different stages for child development, and recommended ways that how the parents can guide the children in all these stages.

I am still reading at the first stage, which is from birth to 8 o 9 years old, as there's where my children are now. It's a good reading book, but it takes me quite some time to read, as I am always doing something else.

I also recommend another book from him, "Simplicity Parenting". This book does help me a lot in my parenting journey, and I am sure Soul of Discipline is more needed for me now.
Viewing 11 posts - 1 through 11 (of 11 total)
You must be logged in to reply to this topic.