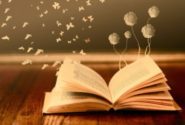 Your favourite book in your Native language
Author
Posts

Hi All,

Let us discuss about your favourite book in your native language.

Please include the following in your post –

Name of the book
Author of the book
If translation available in English or any other languages
A brief description of the book, don't worry about ending. You can tell about the full story.
Your personal opinion.

Happy writing!

Let me start this. One of my favourite book in my native language (Bengali) is Kalbela by Samaresh Majumdar. This is a tetralogy of Animesh. Uttradhikar which describes the era from 1947 to mid Sixties when Animesh was growing up as Kid. Kalbela is the next part which mainly tells the story of his college life and political activities with a sweet romantic love between Madhabilata and Animesh. Kalpurush and Moushalkal are next two parts.  Following is the plot summary:

Animesh Mitra is simpleton who arrives at Kolkata from Jalpaiguri (North Bengal), during hostile times (1967), to study at the Scottish Church College. He is scheduled to take refuge at the residence of his father's friend Mr. Debabrata, but he accidentally gets shot in the limb and ends up at the Calcutta Medical College. Eventually things move on and Animesh develops a deep friendship with Debabrata's daughter Neela. He takes admission in the B.A classes of Scottish Church College on Bengali Literature and ultimately becomes intertwined with the unresting times of the youth intellect.

Though he tried to keep himself away from politics but,he turns to become a Communist under the mentorship of Ramen and Subash Sen, but after a year he feels that their party (B.P.S.F) has been deviating from the ideals of building up an egalitarian society. With the idealistic ideas of Subhash Sen and others Animesh rediscover himself as a hardcore Naxalite, rampaging the interiors of northern West Bengal. In the meantime Animesh gets ripped up between his ideals and his love (Madhabilata). Earlier, Madhabilata( a friend of Neela) opposed the ideals that Animesh believes,but she promised that she will never become a barrier to his mission. Madhabilata gets pregnant out of wedlock while Animesh abandons her for greater idealism. Animesh's roommate, the unquenchable poet Tridip, accompanies him with a dreamy vision of a noncompartmentalized nation. But outrageous planning leads the Naxalite movement to be a tragic demise.

Subash Sen and other leaders get slaughtered by the brutal Congressian Police. Tridip is shot dead and the girls who are arrested in charge of spreading the ideals of Naxalism, are raped by the police officers in front of Animesh and Animesh is tortured by the state to such an extent that he becomes crippled. His nervous systems (below and from the hips) breaks down completely, making him a man who can sit and stagger. Madhabilata gives birth to a baby boy (Arka). Neela stands beside Madhabilata like a wall and delivers immense support, though her husband refuses to stretch out his helping hand. Finally in 1977, the Left Front Government decides to release every political prisoner; a devastated Animesh comes out from jail custody after meeting minister Sudip (his compatriot during his days at the Scottish).

I liked the story mainly because of it's an in-depth description of the Naxalite movements happened during Sixties. Also, the love and relationship between Madhabilata and Animesh is beautiful. This motivates all Bengali young generation and Animesh-Madhabilata became  a cult of Bengali romanticism.

Looks like a well written book.

Frankly speaking, while my school time Hindi was good, and I did use to read a lot of Hindi magazines like Sarita,  Saptahik Hindustan etc, the only worthwhile Hindi books of literature I recall were by my aunt and uncle who were into Hindi teaching in colleges. One was 'Sita Ka Kanyadaan' about current issues affecting common people in India.

However if we consider the fact that we have been taught English in schools right since our Kindergarten,  we can also think of English as our native language 🙂

Then I can count works like

The White Tiger by Arvind Adiga,

The God of Little Things by Arundhati Roy as works which I like best.

And for those who like instant,  entertaining filmi like stuff, nothing is better than Chetan Bhagat's works.

The White Tiger is about a private driver of a businessman in Gurgaon who knows a lot about his master's life, including some adultery.

The story revolves around how this driver learns English secretly, has to get into jail to save his master,  then kills and gradually controls a big business empire himself through means, which even he inside of his heart knows to be bad.

A gripping story but has shades of grey and black and makes one emotional at times when one realises the current moral decay all around.

Also White Tiger was a debut novel by Arvind Adiga and won him a Man Booker in 2008 on debut!

A big feat !

Thank you Peeush for your review on The White Tiger.

Yes, you can say English as your native language as you had your education in English medium schools. I did my schooling in Bengali medium till class 12 from a village.

By the the name of the book from Arundhati Roy is God of Small Things. If I recollect properly. Please confirm the same. I read that book, at the beginning the book was slow spaced and more of descriptive one. But once I started reading it I liked the boo very much.

Wow, I did not know about the fact that the white tiger was his debut book wand Man Booker! I will add this book in my  'want to read' list.

@ichchhemrityu
Yes, that was the name of Arundhati Roy's book. It is not a book which everyone will like, but for those who do like serious and off the routine literary works, this is a good book(and award winning too).

Yes "The WHite Tiger" bought many laurels and fame to Arvind Adiga!

Yes, God of Small things is for serious readers. I am serious about readings 😛 🙂

Today I will tell about the play Raktakarabi by Rabindranath Tagore. You will get English version of this play if you like to read.

Raktakarabi a symbolic drama of rabindranath tagore. The play was written at the hilly resort of Shillong in the year 1330 BS. At that time, it was given the title of Yaksapuri. It was renamed as Raktakabari when it was published in the Ashwin 1331 issue of the periodical Prabasi. The play depicts how human greed denies the beauties and naturalness of life, makes it a mere machine and a necessary ingredient for production, and what shapes human protests take against such a state. The story in brief of this play is as follows.

The royal ideal of the king of Yaksapuri is exploitation of the citizenry; he has an insatiable greed for money. The coolies of the gold mine get burnt in the fire of that greed. In the eyes of the king, the coolies are not human beings, they are mere tools for acquiring gold; they are only small parts of machines bearing the sign and number like 47a, 269f and so on. They do not have any value as human. Here, humanism and humanity are by the shackles of machine. There is no expression of life at Yaksapuri. Nandini is a symbol of life's complete expression' love and beauty. Under the spell of his greed, the king of Yaksapuri does not feel the touch of joy in Nandini; the ascetic does not feel it because of his craving for religious reform; the pundit does not get it due to his scholarly and slavish instincts. Nandini, the symbol of love and beauty' beckons everybody from outside the iron net of Yaksapuri. Everybody becomes excited in a moment at this mirthful touch of free life. The king wants to get possession of Nandini, similar to the manner in which he extracts gold ' by force. But love and beauty cannot be obtained in this way. So the king cannot get Nandini despite her being within his reach. Similarly, the local leader and pundit, Kishore and Kenaram ' all extended their hands beyond the net out of their eagerness to live in life's abundance. But Nandini loves Ranjan and has therefore awakened the feeling of love in him. But Ranjan is tied to the bond of machine. This machine delinks his love from his life; the poet believed that this was the characteristics of a mechanized life. Nandini's lover has to be sacrificed at the altar of mechanization; and through this, life triumphs in order to search and get back love once more. Such point of view has been reflected in many poems, plays and stories of Rabindranath. The poet searched for a balance between materialistic mechanization and the nature of life in the play Raktakarabi.

I will tell you about a book which inspired me a lot in my school days. Probably, you have heard of the Bengali writer Sarat Chadra Chattopadhyaya especially through the name of Devdas. There are lot of movies made on the same book. But I will not discuss about Devdas. I will tell about Pather Dabi. This book was banned by British Govt after it's release. 5000 copies sold within a week. It is told that the book was related to Surya Sen someone thinks it's Netaji Subhash Bose.

Let me tell you the story in brief. You will definitely get this book in English and Hindi.

The book is about a secret society named Pather Dabi whose goal is to free India from British rule. The leader of the organization is Sabyasachi, who is described as being highly educated, having studied medicine, engineering, and law in Europe and America. Sabyasachi is also endowed with physical strength and courage which enable him to elude British intelligence. His physical feats include swimming across a torrential river, and traversing the Eastern Himalayas on foot.

The other major character in the book is Apurba, also a member of Pather Dabi, who is described as a contemptible figure. Emotional and impressionable, Apurba grieves at the colonial rule. He is, however, also weak, timid, and venal. A scene in the book depicts him being humiliated at a railway station by white youth. His obsession with caste purity even during illness and danger is depicted with contempt. Eventually, Apurba becomes a police informer. The main narrative in the book follows Apurba with Sabyasachi appearing unexpectedly, and disappearing as mysteriously.

One reason why Apurba becomes disenchanted with Pather Dabi is that its members do not respect Hindu orthodoxy so he becomes a police informer of the British. Sabyasachi does not believe in the caste system, and towards the end of the book pleads for the destruction of "all that is eternal (sanatan), ancient, and decaying–[in] religion, society, tradition" on the ground that these are "enemies of the nation."

Other important characters in the novel are Sumitra and Bharati, who work alongside men in defiance of the traditional social conventions of the day. Sumitra is described as being beautiful and intelligent, besides being a nationalist. In the book, Sumitra makes an impassioned argument for why it is appropriate for a woman to leave a loveless marriage.
Viewing 14 posts - 1 through 14 (of 14 total)
You must be logged in to reply to this topic.