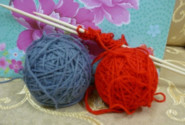 Handwork
According to the dictionary, handwork is work done with our hands, but not by machines. This includes drawing, painting, crafting, crocheting, knitting, sewing, woodworking, cooking, soap making, etc.
Let's share what you are interested, what you are working on or just anything about handwork!
What handwork do you like to do?
Author
Posts

I have heard that people do real well on Etsy, but I am not familiar with this site. There are so many different avenues to explore with selling online that it can be overwhelming. I stick to eBay although I do not sell handmade items, but I trust eBay and have been selling on it for years.

On Pinterest, I have been pinning a lot of pins about quilling. I think it absolutely beautiful, but I do not think that I would have the patience for it. It looks very time consuming, so I would not be able to do it at this time. Maybe I will save all the things I want to learn when I become rich or I retire. LOL

I did cross stitching when I was young. I was taught by my good friend. It was easy to follow the mini square boxes on the fabric.

I love to download free designs online but it is difficult to buy those DMC threads locally.

I think these threads and the fabric aren't popular anymore.

However, I can buy them online , not wiling to use my paypal money yet.

Cross stitching is a addictive habit. Once you get your hands into stitching it, you don't want to stop because you are eager to see the result of your craft work.

Putting it up in a frame is EXPENSIVE.

Wooden framework aren't cheap these days.

Might as well turn it into a pencil case or pillow case.

The photo shown is a simple cross stitch I did for my teenager's pencil case.

[caption id="attachment_3059" align="alignnone" width="591"] pencil case I had cross stitched by peachpurple[/caption]

@morgoodie I have no idea how to set up etsy shop too, it should not be difficult to do so, as it's meant for selling crafts there. But since you are familiar with eBay, perhaps you can help your sister to sell her crocheted products in eBay as well. What do you usually sell in eBay? I always wonder how to set up an online store, especially about eBay. Perhaps you can start a topic about that. It's good for making money online as well. 🙂

Yes, I agree that there are so many things we'd like to learn, but we do not have the time to do that now. Perhaps we can just learn them one by one.

@peachpurple I think cross stitching is nice too. I learned that when I was in high school. I remember there were some craft or souvenir shops selling that. It seems to be easy, but it requires good patience. 😀 

I agree that it's really not easy to buy craft materials locally, or they are very expensive. You can try out Daiso or Spotlight. I started to buy some yarns from TaoBao, as it's less expensive even with the shipping cost.

Turning it into a pencil case is a good idea! I'd prefer that to just hanging it on the wall. I am a practical person. Your child must be really happy when she uses this pencil case, as it's handmade by mom.

This is long ago topic, but I do not have talent like yours. I am a university professor teaching Physics and mathematics and these skills mentioned here are not in my mind.Though these are very useful for everyone for these could be good for business or money-making ,lol. I am so happy for you all guys.I always admire people with talents like embroidery, crocheting, framing, painting and others.
You must be logged in to reply to this topic.