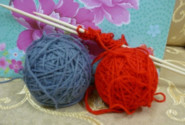 Handwork
According to the dictionary, handwork is work done with our hands, but not by machines. This includes drawing, painting, crafting, crocheting, knitting, sewing, woodworking, cooking, soap making, etc.
Let's share what you are interested, what you are working on or just anything about handwork!
Sewing machine or hand sewn
Author
Posts

I am sure that you do have torn clothes after years of washing your family members laundry, right?

So, if there are torn holes in the pyjamas, bedsheets, T-shirt, shorts, do you use a sewing machine to do the patch up fabrics?

Do you sew by hand the patches?

I do own a portable sewing machine but it couldn't sew thick clothes especially those torn edges by the seems, this sewing machine couldn't do the job.

So, most of the time, I sew by hand , the hemming style ( – – – – ) that is how it looks like.

Sometimes I sew like this ( / / / / / / /) which is called the "fish filamen stitches"

Or, do you request you mom or your spouse to sew up the holes for you?
Viewing 1 post (of 1 total)
You must be logged in to reply to this topic.