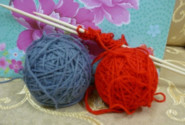 Handwork
According to the dictionary, handwork is work done with our hands, but not by machines. This includes drawing, painting, crafting, crocheting, knitting, sewing, woodworking, cooking, soap making, etc.
Let's share what you are interested, what you are working on or just anything about handwork!
handiwork pay more money
| | |
| --- | --- |
| Author | Posts |
| | I love handiwork because it fetched money to the very person who do it very well in our society today, like in my country nigeria there is so many handiwork people in every open cities and towns, when you have a good handiwork people look for you, your will never lack money in your pocket, i like handiwork because good you will not be looking up to government instead government will even look up to you to create jobs for people, i like handiwork with many reasons. |
| | What types of hand work do you enjoy? I enjoy basic knitting and crocheting. I also love to hand sew quilts. I keep supplies with me all the time. There's not as much market in the United States for hand work because it's is so much cheaper and faster with machines. I wish there was a better market for quilts. I also enjoy art and beading to make jewelry. I am a woman of many projects usually at the same time, lol. |
Viewing 2 posts - 1 through 2 (of 2 total)
You must be logged in to reply to this topic.