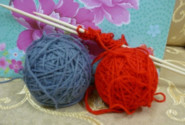 Handwork
According to the dictionary, handwork is work done with our hands, but not by machines. This includes drawing, painting, crafting, crocheting, knitting, sewing, woodworking, cooking, soap making, etc.
Let's share what you are interested, what you are working on or just anything about handwork!
Anything About Crocheting
Author
Posts

I am thinking it might be better if we have different topics for different handwork, so we can always talk about it specifically in each thread. Of course, we can always create more specific topics as we wish.

I started to learn crocheting about two years ago. I was knitting a simple doll for my little girl's 2 year old birthday, but the hair was made by crocheting. So, I just had to learn how to crochet. Though I have tried to crochet a few times before that, I didn't really get it right. But, because of the doll, I just had to make it. I attempted three times, and finally I got the hair cap done, though it was still not a perfect one, I was happy with it. Because of that, I understood how to crochet better, and I fell in love with it.

The tools needed for crocheting are simple: Just a hook and the yarn. These are easy to be carried around wherever I go. I just put them in a small pouch, and do the crocheting work whenever I can. I used to bring a book with me while I am going out, now sometimes it's the small crocheted pouch that accompanies me.

Do you crochet too? How and when did you start crocheting?

This topic was modified 2 years, 7 months ago by Lee Ka.

These are the crocheted eggs I made for my children for Easter Hunt. I have made other treasures for them as well, but I think my children and some friends who saw the picture of my Easter treasures prefer these crocheted eggs the most. My children also created some games to play with these eggs. So, I think these might be fun for kids, and it's quite easy to make too.

I am also planning to make more for my children and other kids as well, but I just haven't find time to do so lately. I am lazy to work on handwork recently. 😀

I guess the fun part is the egg shells can be separated, it's also fun for young children to learn color matching.

This is the free pattern for these crocheted egg – Baby Chicks in Eggshell

These were supposed to be baby chicks, but I am not good at sewing the eyes and mouth at all, so I skipped that part. Moreover, I think eggs are good enough. 😀

Do share with us if you have done or are working on any crocheting project or have any nice patterns. 🙂

Handy work is of paramount and people don't usaully regard it as something one can make out of. This handy work can sustained quiet a number of unemployed people unknowingly.
Viewing 3 posts - 1 through 3 (of 3 total)
You must be logged in to reply to this topic.