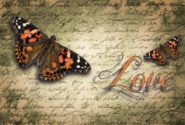 Birthday Love Letter to Someone
Author
Posts

Dear Somebody,

Always keep in mind that there's someone in this world who is grateful for your existence. Someone who will always be there for you in good and bad times. Challenges we will face together and cherish every sweet success.I wish you all the happiness and great things in life because you deserve them. You're priceless, for greater and treasured than any precious gems…and nothing in this world could even replace you. You will always be valued as a person, and most of all a lover.

Thank you for your love and everything in between. Together we will build our future and soon sit together until our life's sunset.

I love you and Happy Birthday!

Lovingly yours,

Shavkat

@shavkat, wow friend, so sweet, my heart corroborates with your love notes. I remember my love letters I received from my ex until now I keep the almost 1 big box with cards without occasions, even . Thanks for this love letter for I remember my new year's resolution to burn all the love letters from my ex including all those social telegrams and numerous card, birthday cards, valentine's card, Christmas cards . There is no logic why keep the things in the past.past is past and it will never come back. If it happens to come back, expect te difference and the feeling of curse faded a thousand times.

I have to also forget those love songs hehehehe : " Habang May Buhay". " My Love Will See You Trough. Charr to my love in the past. What I notice now after all those heartaches that I experience many times is, my heart no longer likes to beat for love , super "kilig" LOL.

All I can say is lucky is the lady you love.

Image by Pixabay

@lovern Well, I just need to practice my imagination. lol I wish I could still have the interest of doing love letters through snail mail. I couldn't do anything but to wait for the right person. I am not looking but it will come. Better to wait than never.lol If it happens, then I would write love letters as an school was.

@shavkat, hahahaha, I thought that was the content of the love letter sent to your love, so sweet and romantic. There is also a need to practice especially if your daily encounters are students- lectures – activities, no more love encounters hehehehe. Indeed love is so beautiful and despite the number of times we face pain, but, the next time around, our heart no longer bothers or cares to feel sad hehehe. Our sad would beat like stone and decide well hard as a rock..lol. No man is an island, but true feeling is a must to feel the happiness and free will in everything love -related, no force, no pressures, but purely base from the heart.

I sound romantic now hahaha. By the way, I have just submitted two blogs that is why I reply you late. I am wishing a great 2017 with life full of surprises, love and money.

@lovern I think we can still do some compositions like this anytime.lol I wish I can find my love letters from the past. At this point of time, I don't know where is my shoebox of love letters. All I can say, youngsters don't have the chance to do it. It is all in the form of electronics. For this year, I am also aiming to write and earn some money here. We need to survive and productive while there is a chance.

@shavkat,  you write blogs, the moderation is immediate, after submitting, we can see the payment move. I was able to reach the payout by submitting blogs 4 days before the cut off. I lack $4 that time , so what I did, I write and write blogs , discuss and discuss alone hehehe,yes I was alone here for 4 days end of December. I think you visited shortly in those days.

Also, when you write in forum do make your discussion longer my friend, for we can have better earning at .200 per discussion if at least three paragraphs .You spread your composition in to tow or three paragraphs after you write in forum.

Then, if you write 30 blogs, that would be equivalent to $10 so laborious yet pay cheap, but we can sources from the internet, let us just develop using our own words before we submit. That is what I am doing. I just expound every topic I see nice to blog from the internet. I just get the idea and then expand using my own words.

Good night, see you here tomorrow evening. I am sleepy now. I have class tomorrow that starts at 7:30 up to 6 only 2 hours break.

Writing Love letters for the one you love is not difficult to do so, only if you can look into the deepest of your heart.

And that composition of yours @shavkat is a sincere one. Someone who reads it can feel the emotion of the writer for his loved one.

How I wish someone would write a letter for me. 🙂 But, I doubt if someone would do it for me, because they might just buy a card or something that is ready-made letter.

Hand-made love letter nowadays is no more applicable to youths. 🙂

@shantal That's the problem nowadays. The young generation cannot have the time to compose a sincere love letter. They rely more on electronic gadgets. It is far better in the old days than at present. 🙂

@shavkat, you're absolutely right. That is how high tech the world we are living in today.

But when it comes to the expression of love through writings or composition towards others, there are lots of social medias that we can use. The only thing is we do not know if they mean it or not since it is said to be Effortless.

@shantal That's the reason why I prefer to receive a snail mail. Through handwriting, we can feel the sincerity of the person. It has been years that I haven't received any snail mail. But I am hoping that this page can bring all the brilliant ideas on how to write a love letter with sincerity from within.

A love letter for my ex:

Dear love,

Please allow my heart to call you love despite break up and despite your dishonesty and unfaithfulness. I hope that in your life now with someone new, you see the difference between me and that woman you prefer for to be with you.

If you only knew how you broke my heart you will surely plan to kill yourself for your conscience is the ultimate norm of your guilt that keeps on torturing you. I hope you remember me once in a while in your waking moment and in your dream.Do you still see the mango tree where we used to sit every time we feel the day warm? I think you forget everything and that is normal for a crazy person like you yes , you are crazy and I was crazy for you too. This time, I moved on and never can I let you beg me again the same way you did before, NO WAY.

I have forgotten and killed you including your shadow . I also burned your name with my rage and slice every letter of your nae with a very sharp blade and knife for that was how i felt when you betrayed me.

Dear Ex:

 I love you, goodbye…The love I have for you faded like those love letters you sent to me in the past, How cruel you were to me. I spent many years  loving and thinking of you every minute and every hour. Can you afford to forget what you have written there in your love letters that there is no one you will love until eternity, but me? What kind of heart do you have? What kind of mind do you have too when it cannot advise you, and tell you that what you were doing was like a mortal sin?

Ha? well, well, go on to your own destiny. You can never destroy my life for what you did to me made me stronger and as ever brave to face my pains and failures of love squarely. Foremost, do not think that I cannot live and be happy without you, You are wrong my love and my enemy. Yes, i consider you now my enemy. I want to kick your ass hahahahaha and I also want to let you know that I have found a better man than you. You are the worst animal in this whole world of humans. In fact, you are not human.

I love you no more , and think of you no more.
Viewing 12 posts - 1 through 12 (of 12 total)
You must be logged in to reply to this topic.