On July 17, the cryptocurrency market rose sharply, and bitcoin prices broke through $7,000 for the first time this month! In recent 24 hours, Bitcoin has risen by $700 or 10%, rising to a seven-week high, which we can see from the live market of bitcoin showed by the chart. Bitcoin has increased its market value by about $9 billion in a matter of minutes due to the jump in prices of nearly $700, the current bitcoin market value is about $125.5 billion.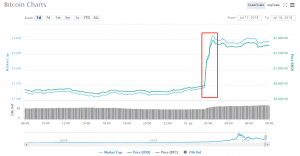 An experienced veteran of cryptocurrency said that the rise in bitcoin prices was driven by technology. This may be part of the reason, and the technology will only have a certain impact on the price of Bitcoin in a certain period of time, without making the price of Bitcoin soar in one day, I think the more direct reasons are:
1.Earlier this week, it was confirmed that the asset management giant BlackRock had set up a working group to study cryptocurrency and blockchain technology.
2.FSB supports Bitcoin:FSB, the international financial regulator, released a report yesterday that it found that bitcoin and cryptocurrencies currently pose no significant risk to the global financial system. At the same time, the Financial Stability Board, which has members of the European Commission of the G20 major economies, said it plans to monitor the cryptocurrency assets of banks and the world's largest financial system.
3.Steven Cohen invests in encrypted hedge funds: According to the report, Steven Cohen, the founder of Point72 Asset Management, is investing in the encryption hedge fund Autonomous Partners to join the ranks of Bitcoin.
All of the support from the outside world has made the value of Bitcoin unveiled, and as a result, Bitcoin has soared to nearly $7,400 in one day and we see an exciting live market of bitcoin. What do you think of the soaring bitcoin price?