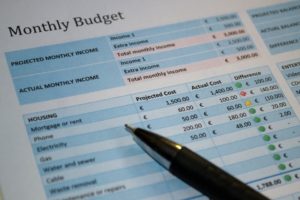 Credit image share to pixabay.com accounting 57284_960_720.jpg
Each and every individual would like to have a good name, fame and  image in the society and to achieve this especially when we are in business or any facet of life financial credibility is a must. What it does is to build a confidence in an individual, whatever his status in society or in life may be. It is very important to have a good track record in this aspect of ones life to be able to attract more finance or goodwill from society. This is because of the fact that the world runs on trust and it is a thing which has to be protected at all costs. As once that is lost whatever the individual has done all his life to reach the position where he or she is comes crashing down in seconds like a pack of cards. Here are some of the best ways to build ones financial credibility in life. It is like this if one has financial credibility the world tends to rally behind such people. When they call them for help in bad times.
Payments – Payments form an important part of ones life as we need to buy goods and services from different parties as they are needed by us and our family for daily, monthly or yearly needs. There are some things like a house and similar ones which will be with a person for his or her lifetime. To get these things in life in a smooth way what we have to do is, see to it that we pay all our payments which are also called dues on time. The best things is to avoid credit. Or if one has credit cards and the like for use see to it that the payment for the goods purchased reaches the banks or the credit card companies in a weeks time. One can note here that many people try to extend the time for making payment to the credit card or similar companies till the last moment. They generally get a credit period of around forty five to fifty days.
Do not wait for such a long time. In the worse scenario make the payments within a thirty day period. These companies recognize and value such customers and offer more facilities and credit to them they even offer more loans to them or clear loans faster when needed. The reason is they maintain a record of our expenditure and payments and see the payment patterns. So in their records and in their view our financial credibility and goodwill increases as we are making prompt regularly before time. This helps the credit card user of similar users a lot in the long run.
Small Bill Payments –  Always settle the bills of small amounts say for the purchase of vegetables, provisions and other similar services which are used regularly on a day to day or a weekly or fortnightly basis immediately. Avoid taking credit for such small items as shopkeepers do charge an amount for interest for the credit being offered. Sometimes they do this in their accounts books and calculate them in such a way that you will always show outstanding amount. It is difficult for us to trace such transactions as they are small amounts and the data is large. Hence people do not check them too thinking it to be a small amount. But this amount increases over a longer period and one simply keeps paying and has no clue of it.
This happens in provision stores and other such places. One more advantage is if you pay the money then and there itself then the account of the transaction is settled and the next time you go to that place the shop keeper will serve you better as you have kept your financial credibility and earned his good will too. Many a times if you are short of cash he will give you the product to you and ask you to pay later as he has trust which you have built through your payment pattern.
No Salary Advance – This is one more common mistake which I have seen many of my colleagues in different places of work do. While I appreciate they may have a need, but many a times I have observed they have perfected this as a fine art. They may get the money in advance or sometimes others may be told it is not possible. But by doing this what they are doing is damaging their financial credibility. Their justification that it is their salary and they are only asking for the money  for the period which they would have worked for, this does not potray a financial credible image of them in the eyes of the employer. Employers are very particular about these things and they make a mental not of it.
It is better one works for the whole month and takes the salary when the date is due. As the concept of salary means on a monthly basis or being paid at the end of the month or the beginning of the next month. If an employee follows this rule then he will discipline himself first which is good, then the next thing is if the if should a time come where he needs salary advance or the whole salary for some important then the employer will be pleased to make the payment to him as he know that this employee has a good financial discipline and will not ask money unless and until things are beyond his means or if he is in trouble and the employer would want to help such employees.
These employees also have the good habit of returning the money to the company back before the salary date should they make some other arrangement or should they have overcome the cash crunch. The employer will surely remember this act and his financial credibility increases and so does the goodwill which he already has. This is also reflected when these employers are asked about the financial credibility of this particular employee by his future employers. The earlier employee is happy to give a good report on this particular aspect.
No Loans Policy – I know it is very difficult for the people in the world to survive without loans. But if you would want to develop your financial discipline and credibility. Then it is better to learn to live with what you have and not go around for loans. Let us say if  a person would want to buy a vehicle then it is better he funds the same from his salary. If he finds his salary is not sufficient to fund for a particular brand of vehicle then go for one which fulfills the need and also does not lead you to take a loan for it. Maybe the vehicle may be small or have less speed but it is still your vehicle and you can travel on it and go places.
If you are so passionate about a vehicle which you would like to own then either save more money for a few months or cut some costs by stopping some habits as these will fund and pool the money you want to buy a vehicle. If you find it difficult then try to save at least seventy to eighty percent of the price of the vehicle and take a loan for the remaining twenty percent only as this would be easily payable by you than a hundred percent loan. Here by not going for a loan at the drop of a hat you are developing good financial discipline and you are first saving something and then thinking of buying and you value the vehicle or any such product more as you know how much you sacrificed for purchasing it.
These are but a few ways of how you can build your financial credibility and goodwill. This inturn will get you respect financially all round and people and lending agencies will see you track record on this particular especially when you try to go an buy some big ticket item like a house or other such things. They want to know whether you are self disciplined financially and do you have the capacity to treat their money lent to you as theirs and return the same to them on time with the interest due to them for lending you such an amount. People are not taken at face value is a well known thing. But someone with the kind of credentials as the ones stated above. Whether it be his or her neighbors, relatives, friends, office, credit companies, banks, housing finance or other such lenders everyone will be eager to part with their money as they know their money is in safe and responsible hands of an individually who knows and practices  financial discipline.